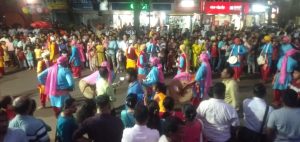 Goemkarponn Desk
PONDA: The Shigmo at State Commenced from 8 March from Ponda and there after it is held at Calangute, later Sakhlim and Bicholim and now it will held in capital City. But the major problem faced by the general public including women particiapting in Shigmo Parade is ignored and causes tremendous hardship to participants especially women.
Shailesh Naik at Shiroda said government should arrange mobile toilet as Shigmo Parade takes seven to eight hours including transportation time and so the artist joining parade need toilet. He said when parade moves from town the hoteliers are not ready to allow to use their toilet to Shigmo participants.
Thousands of people visit Shigmo parade to enjoy romatamel and Float Parade and had to stand for several hours as procession goes till midnight.
Make sitting arrangement atleast for children's and elders.
Growing demand from public to arrange some chairs. According to people government spents lot of money and thousands of people's gather to watch Shigmo Parade for which at least some chairs and water bottles are needed in growing hot temperature.
The parade goes for six to seven hours and every one at least stand for four to five hours till night especially for floats.
The locals suggested that organisers provide some chairs all along the Shigmo float parade so that parents can sit with their child and also some elderly cout sit on them along with some free water bottles
Comment