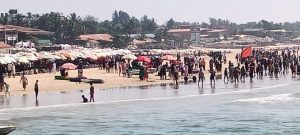 Goemkapronn desk
PANAJI: Two kayakers and two minor children were among 11 persons rescued off Goa's beaches by lifesavers over the packed weekend, which saw hundreds of thousands of tourists making a beeline to the coastline to usher in the New Year.
The double rescue of two male kayakers was reported off Palolem beach after they were caught in the rough current and their two-seater kayak toppled. A lifesaver heard the distressed individuals call for help as they were unable to climb back onto the boat and rushed with a jet-ski to bring them to shore.
A man and a woman, both aged 23 years old from Hyderabad, were also saved using a rescue board after a brief struggle in the water due to heavy currents.
The New Year's weekend also saw the rescue of two children, aged ten and twelve years, after they were knocked over by a strong wave which swept them towards deeper waters off Baga beach. Lifesaver Kartik rushed to their aid with the help of a rescue tube, successfully bringing the children back to shore to the parents' relief.
At Baga beach, two males from Rajasthan, 45 and 53 years old, were swimming when they were suddenly overwhelmed by powerful waves. When they were unable to swim back to shore, the two found themselves in a desperate situation. Akshay and Narayan, lifesavers stationed at the beach, intervened and secured the individuals back to shore on a jet-ski.
Lifesavers also provided first aid to individuals suffering from medical injuries in Candolim and Colva beach.
Baga, Palolem, and Candolim reported the majority of the incidents due to the large density of Individuals on these popular beaches.
On Candolim and Colva beaches, first-aid was administered to a 40-year-old man from Maharashtra, who slipped while deboarding a boat and fractured his leg, when he slipped and fractured his leg. Lifesavers Vivek and Gaurish rendered first-aid before transporting him to the Candolim health centre for further investigation.
A 30-years-old woman from Delhi was reportedly hit by a long cable from a parasail at Colva beach. CPR was promptly delivered to the individual, since she was undergoing respiratory problems, following which her condition stabilised.
Five rescues were also reported on other beaches namely Velsao, Candolim and Vagator. Lifesavers stationed on the beaches have confirmed that all individuals were safely rescued using a rescue tube and jet-ski. A 43-year-old inebriated man from the Birla area near Vasco, was also rescued off Velsao beach after he was unable to swim back to shore. Before being released, the individual was secured and medical tests were conducted.
Last week contractor had implemented midnight shifts for lifeguards as a strategic measure to safeguard lives at Goa's beaches and other water bodies, keeping in mind the increased traffic during the festival season.
Comment