Urbanization, peri urbanization, unhealthy lifestyle, obesity, and hypertension have contributed to the significant increase in cases says HM Rane
Goemkarponn desk
PANAJI: 16,873 Diabetes cases were detected in the last 2 years of the population in Goa. As per information, 7175 cases were found from April 2021 to March 2022 whereas 9698 cases were detected from April 2022 to March 2023.
Health Minister Vishwajit Rane said that the National Family Health Survey 2019-21 (NFHS-5), the fifth in the NFHS series, provides information on population, health, and nutrition for India and each state/union territory (UT).
"The NFHS-5 survey is conducted under the stewardship of the Ministry of Health and Family Welfare Government of India. The NFHS-5 provides state-level estimates of various important Health indicators with Diabetes Mellitus being of them," said Rane.
He said that the Indian Council of Medical Research conducted an ICMR- INDIAB-17 survey in five phases from 2008 to 2020 across various states In India.
"The state of Goa was surveyed in the fourth phase (December 2018 to July 2019) wherein an incidence of diabetes was 26.4% and pre-diabetes was 20.3%),"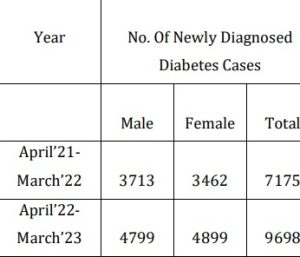 Minister said that the disease trend has changed from communicable to Non-communicable disease over the past few years owing to rapid urbanization and adopting unhealthy lifestyle changes.
"The increasing Non-Communicable Disease burden across the country was shown by a recently published ICMR-INDIAB study in the Lancet Journal. The study shows that the Diabetes epidemic seems to have peaked in many of the developed states across India, with Goa being one of the states," he added.
Rane also said that factors such as urbanization, peri urbanization, unhealthy lifestyle and increase in cardiometabolic risk factors such as obesity, hypertension, and dyslipidaemia have contributed to the significant increase in the prevalence of Diabetes in the state of Goa.
Comment