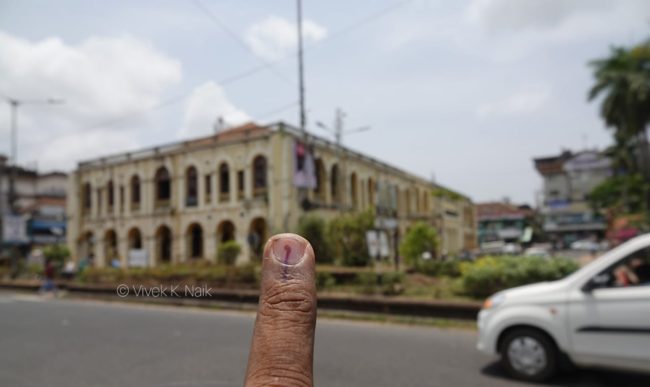 Goemkaponn Desk
PANAJI: Voting for five municipal councils of Margao, Mormugao, Sanguem, Quepem and Mapusa has concluded peacefully today. The overall poll % from 8 am till end of poll for 5 municipal councils was 71.47%.
According to reports, Sanguem Municipal Council recorded 81.49% polling, Quepem Municipal Council 78.01%, Mapusa Municipal Council 68.57%, Margao Municipal Council 64.25 % and Mormugao recorded a voting percentage of 65.04%.
In Panchayat by-polls ward IV in Velim saw a turnout of 65.59 % and ward ll Karapur-Sarvan registered a voting percentage of 85.96 percent.
Altogether 402 candidates battled it out today in 93 wards of the five municipal councils – Mapusa, Margao, Mormugao, Sanguem and Quepem – to form the next council. The results will take place on April 26.
A total of 1,85,225 voters were eligible to cast their votes.
Though the elections are not fought on party lines, the ruling as well as oppositions have fielded their backed panels.
No doubt, the BJP, in the recently held elections swept six out of seven civic bodies including Panaji City Corporation, with thumping majority but the upcoming polls are an acid test for the ruling dispensation, especially to know its standing in South Goa, as the 2022 Assembly elections keep drawing tantalizingly closer.
Though, the BJP is not keen on admitting that the municipal polls are semi-finals to 2022 assembly elections, it is definitely, as per political experts.
Winning Margao municipal council, ruled by Congress' Digambar Kamat over several years now, will be a prestige issue for BJP, who has been trying their luck hard in the constituency for decades now. The last council was also ruled by Kamat and Vijai Sardesai jointly, who have once again come together to put up a united fight.
BJP has nothing to worry about in Quepem, as Deputy Chief Minister Chandrakant Kavlekar, who has been ruling the constituency or rather the taluka- will sweep the polls with majority. His three candidates, where infact elected unopposed, before the elections to the council was declared null and void.
In Mapusa too, Joshua D'Souza and Glen Ticlo, together have an upper hand in the municipal council, considering that the constituency is ruled by the BJP over decades now.
A fierce battle is being fought in these municipal councils and the stakes are high for all the parties, be it the ruling BJP, opposition Congress and GFP. The states are heading to Assembly Elections 2022 in less than a year and the municipal polls are likely to set the stage for next year's poll.
The polls in these five municipal councils were postponed after a High Court order. The court had said that the procedures followed for reservation of municipal poll constituencies for women, SC, ST and OBCs were not correct. The High Court's decision was upheld by the Supreme Court which directed the State Election Commission to complete the polls by April 30.
Comment