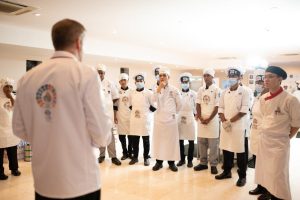 Goemkarponn desk
PANAJI: A display of culinary excellence and international flair was on full display at the 1st Round of the 9th IIHM Young Chef Olympiad (YCO) held at the IIHM Goa Campus on 31st January, 2023. With over 50 countries participating this year, the grand and star-studded event of global proportions has new countries including Australia, The Netherlands, Egypt, Luxembourg, Madagascar, Azerbaijan and Tanzania, in the fray.
Nine talented young aspiring chefs from nine different countries around the world gathered to showcase their culinary skills and compete in this prestigious event. The participants were Naureen Shaikh from India, Yap Zhen Jie from Malaysia, Brian Patrick Geros from Fiji, Selva Padiatchy from Mauritius, Juan Camilo Dueñas Galle from Colombia, Mariyam HashmaLomir from Maldives, Eroiwane Denis from Seychelles, Emily Zeynaizade from Azerbaijan, and Sonam Tshering from Bhutan.
Sneha Raj, Director of IIHM expressed her joy over Goa hosting first round, "This competition is world's biggest young chef competition, and Goa is proud to host its first round. We bring various countries together and the young budding chefs who want to make their career in culinary. This competition is grand because all these young chefs represent their country." she says.
Hailing from diverse cultural backgrounds, brought their unique perspectives and techniques to the competition, making it a truly international celebration of the best young culinary talent from around the world. The competition was fierce, with each young chef putting their creativity, skill, and passion for the culinary arts on full display.
The first round of the Goa Chapter was judged by renowned panel of International Chefs. "Part of the competition is really skill based. We test them on the fundamentals or building blocks of cookery, and how well they can cook. There's a saying that, if you build a house without a good foundation it's never going to stand for long. So, we need to know that they've got the skills so in five years time they end up getting really good chefs and that is going to be challenging" says Chef Garth Strobell, Celebrated Chef, Author and awarded Golden Wine Award for contribution in culinary field.
Naureen Shaikh, a young aspiring chef who is representing India at this level is completely dedicated when it comes to cooking. Her mentor from India, Sudipta Mazumder describes her excitement and dedication over this event. He says "From the beginning we saw that she was completely dedicated about cooking. She has competed at different levels and thus we have selected her for the YCO competition. When I found out that she is completely focused and dedicated for the competition, I knew that she will give her everything for this.
She has also done industrial training in France and I have full faith that she will do her best in this competition." He adds.
At 10:30 am, the competition began with a skill test, followed by the creation of a delectable vegetarian dish and a tempting dessert. These young chefs showcased their culinary skills for 3.5 hours, wowing the judges and spectators with their culinary prowess.
This event is a testament to the passion and commitment of young chefs from around the world, and it's a thrilling experience to see such talent in action. It's safe to say that the culinary world is in good hands with these rising stars leading the way.
Azerbaijan Mentor Chef Kelvin Chong Heng Ho says "This is a platform for everyone to sharpen their skills and shine when they're still in the world. I thank IIHM for giving this platform to the young chefs."
The Round 1 of YCO was a testament to the IIHM institute's commitment to excellence and a celebration of young culinary talent from around the world. IIHM has a long history of providing world-class hospitality education, with its multiple campuses located in both national and international cities. The institute is dedicated to its pursuit of excellence in teaching and placements, and has made a name for itself in recent years with its organization of the world's largest culinary competition, the Young Chef Olympiad. With MoUs signed with over 50 countries for student and faculty exchange, IIHM brings the best of education to its students from around the world.
The 9th IIHM Young Chef Olympiad looks all set to be the mega culinary competition and convention of the year with its leading 10 competitors from Round 1 compete in the Grand Finale; the next 10 competitors filling the 11th to 20th positions compete for the Plate Trophy and the remaining competitors taking part in the YCO Dr Suborno Bose Challenge.
These nine talented young chefs came together to showcase their skills and demonstrate their passion for the culinary arts and it was an astonishing display of creativity, skill, and culinary prowess, making the competition a truly international event.
2023 being the International Year of Millets, the 9th IIHM Young Chef Olympiad 2023 is also promoting Millets in a big way, putting a spotlight on them as well as on sustainability.
Comment