Aam Aadmi party gheraos the PWD office at Mapusa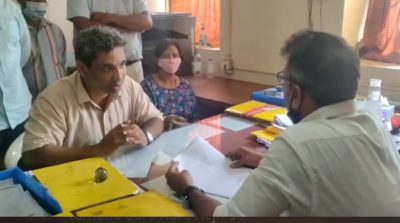 Taking up the cause of the common Mhapsekars, the Aam Aadmi Party (AAP) led by AAP Goa Convenor Rahul Mhambre gheraoed public works department (PWD) at Mapusa along with residents on Monday.
Leading the charge, AAP Goa Convenor Rahul Mhambre stated that the people at Mapusa were getting astronomical monthly water bills since many months and there were absolutely zero accountability among the officials. "They were also getting disconnection notices on their inability to pay these incorrect water bills. The officials were really arrogant and were harassing the people," he said. Mhambre, stated that the residents were forced to run from pillar to post and none of the officers were ready to act on it. Despite multiple escalations right up to the Chief Ministers office officials did not act leading to AAP on Monday Gheraoing PWD officials.
The Pramod Sawant Govt has been caught in it's own web of lies by Goenkars. First he stated that every house will get water, then he stated houses will get free water upto 16,000 liters. But here we see small houses which don't have many family members receiving astronomical bills with officials not willing to fix them.
"The elected representatives are not bothered about the plight of the residents here. Two single women household in Mapusa received monthly water bill of ₹47000 and ₹38000," he said."They even went to Panaji to get the problem redressed. Even letters to the chief minister of Goa, Pramod Sawant and other senior ministers did not evoke any response," Mhambre added.
"We told the Assistant Engineer, Mahesh Kenaudekar that if it was a commercial establishment like a restaurant, then such a huge bill could be justified, But how could a small household with just a couple of members get such a large bill "We will wait for a few days for the solution. If that does not happen, we will gherao the office again." Mhambre informed.
Comment