AAP condemns NCZMA over marking of port limits
AAP assures to make Goa a Pharma Hub, not a Coal Hub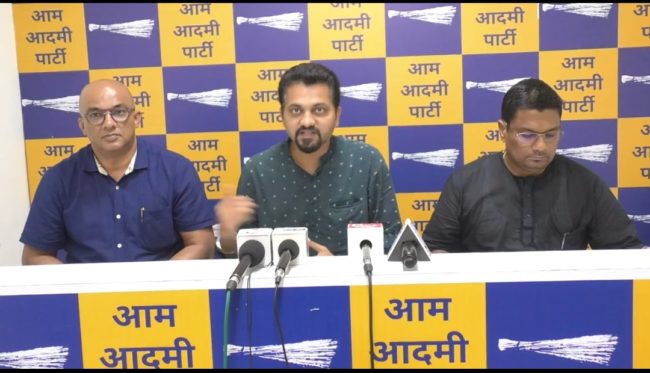 Goemkarponn desk
PANAJI: Aam Aadmi Party condemned the National Coastal Zone Management Authority (NCZMA) 's move to reject the state government's plea of deleting the port limits from the Goa Coastal Zone Management Plan (CZMP).
AAP Benaulim candidate Captain Venzy Viegas assured that if the AAP forms the government, the party would place an intervention with the Central Environment Ministry as a state representative and only by doing this would be able to stop the destruction.
Viegas said, "The AAP's vision is to replace the coal hub with a pharma hub once it forms the government. Goa is being turned into a coal transportation hub at the expense of its ecology by the BJP. If Goa becomes a Coal hub, this will devastate Goa's coast, fisheries, rivers, villages, and the very essence of Goa. Therefore, Mormugao should be cleared of coal so that other businesses can take its place".
AAP Ponda candidate Advocate Surel Tilve said, "A number of Goans have raised their voices against the CZMP plan as it is rife with inaccuracies. This will directly affect the lives and livelihoods of people living in coastal areas. Despite many people have been raising their concern over this new development, why are the BJP and CM Pramod Sawant mum over this issue?"
Tilve further said, "In a meeting held in New Delhi to approve Goa's plan, the NCZMA rejected three crucial pleas – deleting ports limits from the plan, the inclusion of 40.06 lakh sqmts of additional sand dunes identified by the Goa Coastal Zone Management Authority experts and incorporating limits to coal handling in the plan".
Adding, he said, "AAP has always been at the forefront whenever the BJP-led government stepped in to destroy the state's ecology. State's Environment Minister Nilesh Cabral had given an assurance on the floor of the House that his government is ready to take up issues on the plan with the Centre. But as we know, BJP is known for zumlebazi".
AAP Fatorda candidate Sandesh Telekar Dessai said, "BJP has bulldozed the rights of the state. Now, people residing and doing business in coastal areas will have to seek NOCs from the Mormugao Port Authority. Goans have been demanding that the port limits be deleted from the CZMP because there is no provision in the CRZ Notification 2011 for showing the same. However, the government is not taking any action as they are self-driven".
Comment