After a long wait Curti-Khandepar P'yat to get a new Panchayat Ghar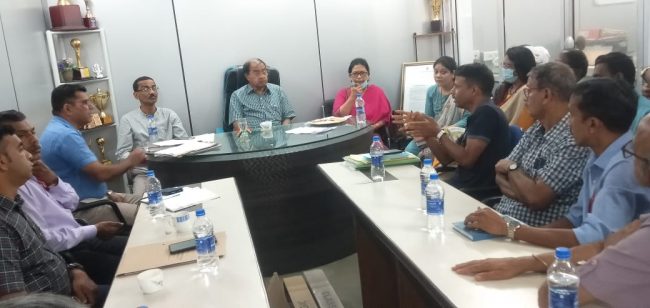 Goemkarponn desk
PONDA: Ponda MLA and Agriculture Minister Ravi Naik held a meeting of various officials of government departments today at Curti Khandepar Panchayat office at Haveli Curti, wherein discussions were held on completion ongoing development works besides launching of new works, roads, bridge, cleaning of nullah and construction of internal roads.
The pending sewerage work was also discussed.
Minister Ravi Naik said the government had reserved space to construct a new Panchayat office and Market at Housing Board Colony.
"1352 square metre open space is located at housing Board which can be used for Panchayat Ghar and market," he said.
He said a special meeting of Housing Board Chairman Jeet Arolkar and officials will be held to discuss the handover of this land for the construction of Panchayat Ghar and Market.
It may be recalled that the Curti Khandepar Panchayat has already two offices, one at Khandepar and another at Haveli Curti.
Currently, the official work is held on three alternate days at Curti and Khandepar offices. These offices are small and difficult to accommodate people and even conduct gram sabha.
The construction of a fully equipped building for Panchayat is a long pending demand. However, as the land issue is likely to resolve, Curti-Khandepar locals hope to get a new Panchayat Building.
Sandeep Parkar local from Khandepar also demanded to appoint more traffic Police at Opa junction for the safety of school students.
Locals were also reminded in the meeting to construct an approach road to New Khandepar Bridge; it's four years now the bridge has been without an approach road, due to which traffic proceeds on internal roads causing risk to locals and students.
It was also decided to repair primary school buildings at Curti and provide toilets to primary school OPA. Locals also demanded to solve the parking problem. Locals also stressed fogging in the Panchayat area to prevent the spread of dengue cases.
Comment