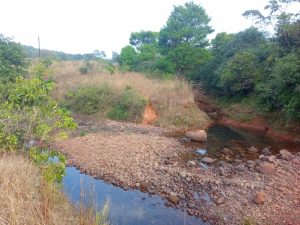 Goempkarponn desk
PANAJI: After the Kannadigas extended their support to Goa over the Mhadei water dispute, the Krishna Bachao team of Maharashtra condemning Karnataka's move of diverting water into Malaprabha have extended their support to Goa.
Abasaheb Chavan, President of Krishna Bachao Andolan, said that Karnataka's move to divert the natural channel of water will badly impact the rich biodiversity of the Western ghat.
"The Western Ghats or the Western Mountain range is World's rich biodiversity hotspot and is shelter to a large number of endemic species".
Condemning the decision of the Central Water Commission over approving DPR to Karnataka's proposed Kalasa-Bhandur dam project, Chavan said, "Centre is showing soft corner to Karnataka because it is a politically powerful state having 28 Lok Sabha and 12 Rajya Sabha MPs while Goa's strength is only 2 Lol Sabha MPs". Don't play with the environment and biodiversity for political benefit", he added.
Raising concern over permissions that might be granted by Central Ministry, Chavan said, "Permission given for any such project today will threaten the biodiversity in the near future. Every State will start taking biodiversity for granted and divert the river tributaries as per their need. We should understand that diverting the river to fulfil today's requirement will harm us in the near future".
Rahul Pawar, an executive member of Krishna Bachao, said Krishna Bachao is in full support of environmentalists as far as saving Mhadei is concerned. "We are not against any of the State. We are concerned about the environment. Diverting water to Malaprabha will have a terrible impact on the Western Ghats. States may be bound by boundaries, but the forest isn't. It's not about any particular State but about saving the environment", said Pawar.
It can be noted that a week ago, Kannada Dhangar Samaj President Sharan Meti, in his statement, had said the Kannadigas are even ready to go on strike and stage a protest in support of Goa against the Karnataka government for the sake of Mhadei, the lifeline of Goa.
Raghunath Dalvi, president of Mauli temple Kankumbi, lamented the difficulties the villagers faced during underground canal construction. Dalvi had said that the proposed water diversion project is not good for the people of Kankumbi. He added that channelling water against its natural flow will cause havoc and might result in flooding during monsoons.
Comment