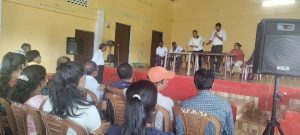 To conduct survey now, implement from next financial year
Agrees to levy a Garbage collection tax on each household and trade permits
Goemkarponn desk
CANACONA: After a heated and prolonged discussion Agonda villagers discarding the government-proposed tax slabs, finally agreed to revise House-Tax as per their conditions while first time introducing the levy of Garbage collection taxes at the Gramsabha held on Sunday.
Heated and prolonged discussion and arguments followed after Agonda Panchayat Secretary Amol Naikgaunkar citing court directives and stating there were no house-tax revisions for the last two decades, put forth the proposal for revision of house taxes as per square metre patterns. Earlier, Secretary explained that the panchayat body has agreed in principle to levy Rs.20/- per sqm of a Slab/RCC house and Rs.10/- per sqm of a Roof-Tiles house against government notification of Rs.40/- and Rs.20/-, respectively and explained that non-revision of House-Tax could be contempt of court, and could even invite government's wrath of stopping government Grants, Matching –Grants if panchayat fails to revise the house-tax as per the notification published in Government Gazette. Secretary also explained that government wants each panchayat body to generate its own revenue and should be self-sustainable.
Member Navnath Naikgaonkar stating Self-Sustanability by any Village is a need indeed, however, challenged government that it has no right to stop grants. "Be it any government, I challenged the government to stop the Grants, Grants may be priveledges to the government, but it is our constitutional right. No one can stop Grants", he said.
The members flatly refused to introduce house taxes per square metres of the build-up areas, and heated discussions and arguments ensued where members put forth different concepts for revision of house taxes. 'Forget about Rs.20 And Rs.10/- sqm, the introduction of even one- rupee a square metre, will result in increasing house taxes by 500-100 per cent of the existing one(Tax). A person paying Rs.50/- now will see his house tax hiked to Rs.3000/- and above.
This is not acceptable. ', argued a member Kiran Naikgaunkar. There were proposals to levy Rs.3/-, Rs.5/- and Rs.10/- per square metre rate for house tax, but members rejected all.
Suggestions were also made to wait for revision of house taxes by other panchayat particularly in Canacona, but the secretary pleaded for a resolution to avoid the panchayat being penalized for contempt of court. With several members rising up to strongly refusing to accept the per square metre formula/concept for revision of house-tax, after intense deliberation finally agreed to the proposal of revision of house as Rs.300/-(for a roof-tiles house, Rs. 600/-(RCC House), Rs.800/- (RCC+2), Rs.500/- (House with Manglore Tiles+RCC). A resolution is passed unanimously by raising hands to revise the House Tax. Sarpanch Preettal Fernandes informed house surveys will be conducted by the panchayat and requested necessary cooperation from the members when the team visits houses.
A resolution is also passed to introduce a Garbage Collection Tax of Rs.200/- on each household and Rs.1000/- for the respective Commercial/Trade permits, annually.
There was also a commotion of sorts after a women member informed she was threatened for raising an issue and bringing it to the attention of the Sarpanch for 'unscrupulous Garbage dumping in her neighbourhood' in the last gram sabha.
Incidentally, Dy. Sarpanch Canisha Fernandes, Dhawalkhazen panch Nilesh Pagui, Karashir-moll Panch Ramnath Velip were conspicuous by their absence, while Ex-Sarpanch/panch Fatima Rodrigues, KMudkud panch Karuna Phaldessai, Mudcheli panch John Fernandes along with Sarpanch Preettal Fernandes answered a volley of questions posed by members/villagers at the Sunday's gram sabha.
People also raised issues of potholed roads, including the main village road and the completion of Parvem-Dessaiwada Road, which sarpanch Fernandes informed the potholes were covered very shortly and also the file is being pursued for completion of Parvem-Dessaiwada road, urgently.
PWD (Water –Supply and Electricity department staff was pulled up for the non-supply of water even in the rainy season and the erratic power supply and constant power snapping, high-voltages damaging electrical gadgets, and also questioned the non-presence of responsible officers at the gram sabha meeting as agreed in the last gram sabha.
"Panchayat already wrote to these departments to depute their officer/s for Gramsbha to answer members, but they fail to attend, what we will do?', informed sarpanch Fernandes," he said.
Kisan Dessai raised the issue of the beach road for Ganapati Visarjan, the incomplete hot-mixing of Mudkud-Betulward road, and the release of Leachate and strewn garbage on the road from Canacona Municipality's Dumane Garbate Treatment Plant.
"I request to take up the issue with Shristhla Panchayat for the release of Leachete, Garbage and waste into the water bodies of Agonda village, which not only contaminates the river and marine life but creates havoc with the cultivations in Agonda village. CMC Garbage Plant is situated on the land belonging to Shristhal Panchayat.
Marcus Fernandes, Shabha NaikGaonkar, Godwin Fernandes, Vinod Phaldessai, Fiona Furtado, Remy Borges, Trifonio Coutinho, Amita U. Pagi, Silvestre Fernandes, Francisco Coutinho, were amongst many others who took part in a discussion at the gram sabha.
Panch Karuna Phaldessai proposed a vote of thanks.
Comment