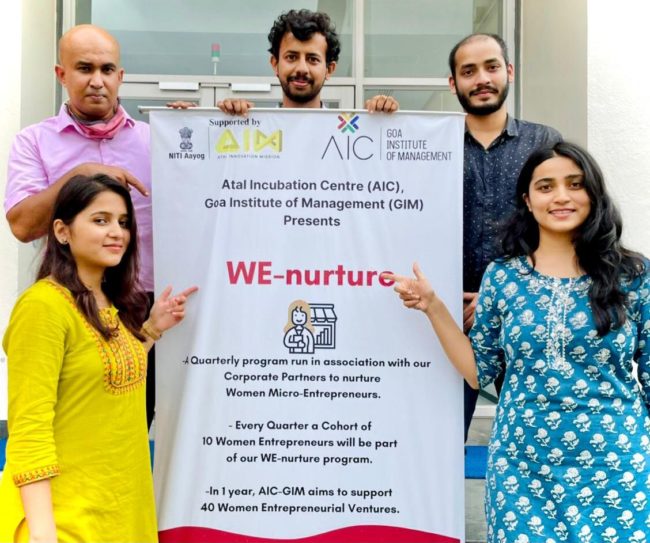 Goemkarponn desk
SANKHALI: The Atal Incubation Centre of India's premier B-school, Goa Institute of Management (AIC-GIM) has introduced its first batch of the WE-nurture programme. The aim of this programme is to nurture and support women micro-entrepreneurs to scale up their ventures.
WE – nurture is a quarterly program for women micro-entrepreneurs aimed at strengthening them with the help of corporate partners. AIC-GIM will have a start cohort of ten women who will receive the pre-incubation services and support. AIC-GIM hopes to nurture close to forty women entrepreneur ventures through this programme.
During the pandemic, many women became entrepreneurs for the first time. Most of these women led businesses that were small and informal in nature. The WE – nurture program of AIC-GIM intends on providing assistance and support during these times, to build resilience and give the women, up-skilling resources to scale up.
Ajit Parulekar, Director of Goa Institute of Management tweeted, " We salute and celebrate women power through this initiative of WE-nurture by AIC-GIM. Best wishes to this first cohort of the program to succeed in establishing vibrant ventures."
The WE – nurture program began with ten women who not only sustained their business, but also provided livelihood to rural women and farmers in a lot of ways. These women entrepreneurs were provided support in the form of access to investor networks, market support, knowledge and monitoring support, access to technical support, legal compliance support and much more.
These are the ten Women micro-entrepreneurs who aim to make a profit for a purpose:
Sucheta Bhandare from "Earthpoorna" is working to develop women farmers and provide wholesome, healthy food for the people.
Vaishali Chauhan's "Dhairyansh Green", a wasteless store, promotes and supports local, natural, seasonal, fresh and chemical-free produce which is locally sourced from communities.
Tanuja Divker, through her brand "Medini", aims to develop a platform for rural women to showcase their products. She also plans to host sessions for the holistic wellness of women.
Comment