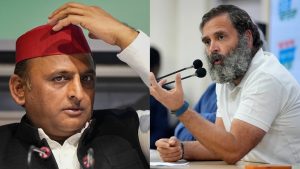 Akhilesh Yadav's statement underscores the contrasting viewpoints between the two political entities within the extensive Opposition coalition, aiming to present a cohesive challenge to the BJP in the upcoming national elections scheduled for next year
Goemkarponn desk
New Delhi: Cracks within the Opposition's INDIA alliance have deepened as Akhilesh Yadav, the leader of the Samajwadi Party, questions the Congress's failure to conduct a caste census during their previous terms in power. This discord between the two major parties within the broader Opposition front, aiming to present a united front against the BJP in the upcoming national elections, is becoming more apparent.
Speaking in Satna, election-bound Madhya Pradesh, Yadav criticised the previous governments for not undertaking a caste census, attributing this negligence to their flawed policies. He specifically taunted Congress leader Rahul Gandhi for his recent "X-ray" analogy regarding the demand for a caste census.
Gandhi, at a rally, reiterated the need for a caste census, likening it to an "X-ray" that would reveal details about various communities in the country. Responding to this, Yadav dismissed the Congress's demand as a "miracle" and mocked Gandhi by stating, "X-ray was the need of that time. Now we have MRI (magnetic resonance imaging) and CT (computed tomography) scan. If this problem was solved back then, such a gap wouldn't have existed in society today."
Highlighting the irony, Yadav remarked, "The biggest miracle is the Congress is also talking about caste census. Those who are talking about X-rays are the same people who stopped the caste census after Independence."
Yadav criticised the Congress for its failure to conduct a caste census post-independence, claiming that when leaders like Netaji (Mulayam Singh Yadav), Sharad Yadav, and Lalu Prasad Yadav, along with parties from South India, raised the demand in the Lok Sabha, the Congress refused to act. He argued that the Congress's current interest in a caste census stems from their realisation that their traditional vote bank is no longer secure, as they betrayed the backward classes, Dalits, and Adivasis after Independence.
In recent times, Akhilesh Yadav has been openly critical of the Congress, alleging that the party does not want to ally with his Samajwadi Party due to strained relations over seat-sharing for the November 17 Madhya Pradesh elections. Last week, he accused the Congress of not implementing the Mandal Commission recommendations and opposing the caste census. Despite these tensions, Yadav affirmed that his party remains part of the INDIA bloc.
The caste census has become a significant political issue, gaining momentum ahead of the general elections next year. Even the BJP, which had earlier opposed a national caste census, now hints at reconsidering its stance, as Union Home Minister Amit Shah recently stated that the BJP never opposed the idea and would decide after extensive consultations.
Interestingly, the Bihar government recently presented the full report of its controversial state-wide caste survey. Meanwhile, West Bengal Chief Minister Mamata Banerjee, another key figure in the INDIA bloc, had previously opposed a call for a caste census by her Bihar counterpart Nitish Kumar at a meeting of Opposition parties earlier this year. The political landscape is evolving as parties position themselves on the issue of caste census in the run-up to the elections.
Comment