Goemkarponn desk
MARGAO: Anuj Vernekar, Nishant Shenai, Rahul, and Ayaan Shaikh have advanced to the Men's singles semi-finals at the State Major Ranking Badminton Tournament, held at the multipurpose stadium in Navelim. Close to 300 players are participating in the four-day tournament, organized by BPS Sports Club in association with the Goa Badminton Association and the Sports Authority of Goa, across various age group categories and seniors.
In an impressive performance in Men's singles section, unseeded Anuj Vernekar caused a major upset by eliminating the top seed Karan Dhavaskar in the pre-quarterfinals.
He continued his winning streak by defeating Advait Balakrishnan in a thrilling quarter-final match with scores of 21-19, 23-21, securing his place in the semi-finals. Meanwhile, Nishant Shenai had a smooth run as he defeated Sushil Nayak with a convincing score of 21-12, 21-12. Rahul also showcased his skills by overcoming Arjun Bhagat in an exciting three-set match, with scores of 19-21, 21-10, 21-8.
The second seed, Ayaan Shaikh, faced a tough challenge against Soham Khandeparkar but managed to secure victory with scores of 24-22, 21-16, moving on to the semi-finals.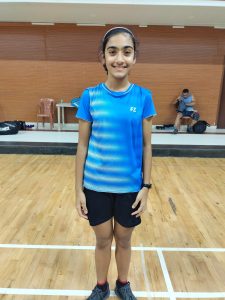 On the women's side, Janhavi Mahale, Shreya Mehta, Sakshi K, and Ritika Chelluri have made it to the singles semi-finals. Janhavi Mahale defeated Aadya Chaurasia with ease, securing a victory of 21-14, 21-9. Shreya Mehta had a tough battle against Soumya Deshpande, but she managed to prevail with scores of 21-19, 21-19. Sakshi K displayed her prowess with a dominant performance against Shivanjali Thite, winning 21-9, 21-13. Ritika Chelluri faced a challenging match against Twinkle Sullad, eventually emerging victorious with scores of 26-24, 18-21, 21-17, earning her spot in the last four.
Other Quarterfinals results:
Men's Doubles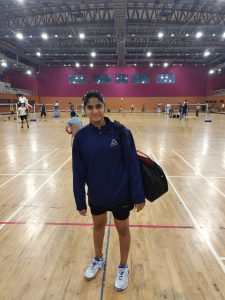 Arjun Fallary and Tejan Fallary, , def. Pankaj Naik and Sunny Sawant, , 21-13 21-14 .
Aryaman Saraf and Yash Halarnkar, , def. Aditya Desai and Prasad Patil, , 21-13 21-13 .
Parag Chauhan and Sushil Nayak, , def. Amit Kakkar and Krishnanad Vernekar, , 21-13 23-21 .
Floyd Araujo and Frederick Fernandes, , def. Darwin Barreto and Dattaprasad Parab, , 20-22 21-14 21-14 .
Mixed Doubles
Tejan Fallary and Lydia Barreto, , def. Mahesh Parab and Anjali Das, , 21-5 21-6 .
Frederick Fernandes and Yasmine Sayed, , def. Mrunal Bhatkande and Minoshka Pereira, , 21-17 23-21 .
Sushil Nayak and Aahana Nayak, , def. Floyd Araujo and Malika Lobo, , 21-8 17-21 21-14 .
Aryaman Saraf and Nidhi Desai, , def. Sahil Sayed and Salouni Naik, , 21-14 21-7 .
Comment