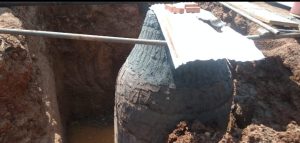 Goemkarponn Desk
PONDA- The Tisk Ponda locals and Dhavlim Farmers in Dhavlim Ponda are worried for ongoing work on Sewerage Manholes for Ponda Sewerage Treatment Plant (STP) work had almost dried up springs which were important source of irrigation for paddy crop said Dhavlim farmers.
The ongoing huge sewerage manhole work went deep in ground from where huge quantity of water was pumped out on daily basis for its construction due to which Dhavlim farmers fear their nearby springs originating in nullah dried up. Many such chambers are seen at Tisk Ponda.
The farmers entirely blamed it to huge Sewerage manhole work which are dug in ground 10 to 12 meters deep.
The Farmers at Dhavlim Ponda who are cultivating their paddy land at Daag Ponda said two month ago they had cultivated paddy crops which is almost grown up but suddenly they shocked to see that the three springs originating in internal nullah located behind Canteen of Mamlatdar building at Tisk Ponda had almost stopped flowing and dried up.
Further since past around two months huge quantity of ground water resource which was frequently accumulating in sewerage tanks(manholes) was daily pumped out and thus drained the ground water resource and now totally dried up.
The manholes went to deep while the three springs water located at top of the earth are almost destroyed living no water for irrigation of paddy crop.
The farmers said around 30 farmers cultivates vast paddy field namely Azoth, Mestha Shet, and Deva Adi at Daag Ponda in Ponda City and there fore government take steps to find out urgent solution to their problem.
Comment