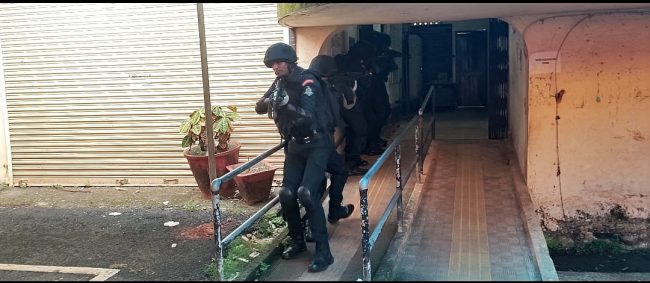 Goemkarponn desk
CANACONA- A team of Anti-Terrorists Squad (ATS) from Panaji performed a live Mock Drill at Dy Collector and SDM Office complex (where also Taluka's State Government Treasury is housed) on Friday evening.
The fully geared and armed 7-members team led by ATS Sub-Inspector Ravindra Vernekar launched the mock counterattack against the terrorists who sieged taluka's government Treasury located in the Canacona's Dy collectorate/SDM complex.
In an attempt to gain entry into the complex armed two members of ATS Sleuths grouped seperately, cautiously first proceeded from rear-side of the complex building, wielding Firearms.
In a group of two, the six armed personnel regrouped just outside the main entrance; two each then gained entry and independently launched the counterattack on the terrorists hiding and also holding the Treasury security men hostage inside the Treasury.
In a tactical move, while three armed personnel led the attack directly inside the Treasury to neutralise the terrorists, three others lay outside, with one of the gun-wielding ATS personnel aiming the staircase to the first floor and the other two aiming towards the passage inside and entry point.
Canacona PI Chandrakant Gawas, who was present along with the Canacona police force later, informed that the ATS team had particularly examined the building surroundings and the location of Sub-Treasury, and practised how to enter the building, exit and also evacuate the trapped persons in case of any emergency or any untoward incident.
Comment