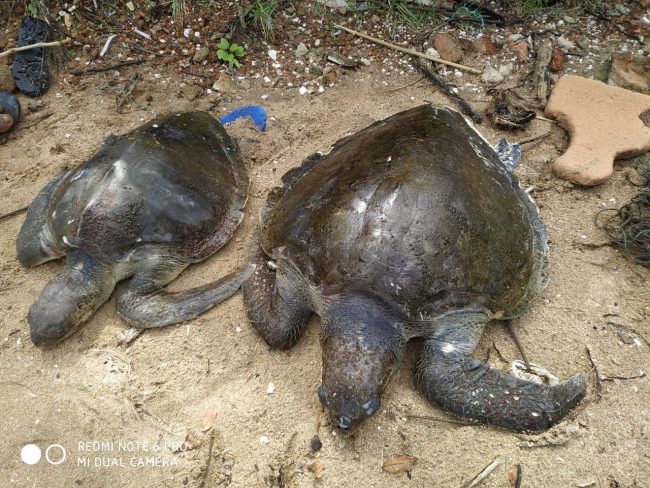 Goemkarponn desk
CANACONA – The rescued pair of badly injured and fully exhausted Olive Ridleys found entangled in a piece of fishing net on Agonda shore later died while under veterinary treatment.
The Beach cleaning women who saw the struggling pair rescued the Male-Female duo from the tumultuous seawaters at the shore with the help of some locals and brought them onto the shore and freed them from the piece of fishing net.
The endangered sea-species breed, however badly injured with bruises and cuts on its flaps and looked extremely exhausted, were handed over to Forest officials, who duly took them under their care for treatment.
Forest officials from the Pisonnem range were alerted and reached to take the flappers pair in their possession and took them away.
According to sources from Forest (Pisonnem Range), Padi, both the Sea species later died due to the extensive injuries they had sustained.
According to sources, it is not known how many days or months the young sea turtle pair struggled to break free after being caught entangled in the loose fishing net piece; they came close to the beach shore of Agonda on Friday.
"The injuries were very bad, and they (both Turtles) succumbed while being treated. Efforts were made with the help of veterinary help, but both flappers died of the deep injuries they had sustained in the nets, informed a forest source.
It may be recalled that a Green Sea turtle caught in a fishing net off Palolem beach Coast last mid-September was provided with treatment by a veterinary Officer for its minor injuries and released back to sea by Forest Department officials.
Comment