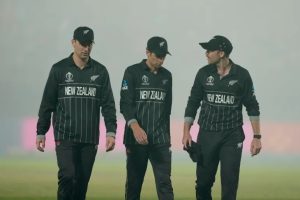 Cricket World Cup semifinal: Black Caps v India; Where: Wankhede Stadium, Mumbai; When: Wednesday, 9.30pm; Coverage: Live on Sky Sport 1, live updates on Stuff
Wins over India have been some of the Black Caps' most famous results on the global cricketing stage.
But beating India in India – as they need to in the semifinals of this year's one-day international World Cup on Wednesday – has historically been their biggest challenge.
New Zealand men's cricket teams have visited India 19 times over the past 68 years, playing a total of 86 matches against their hosts across all three formats.
Both test wins took place before any of the current World Cup squad were born, in 1969 and 1988. Four of the ODI wins took place in the 1990s and the early 2000s, before any of them had started playing.
More recently, there were T20 wins in 2012, 2016 – in the group stage of that year's T20 World Cup – 2017 and January this year, and ODI wins in 2016 (twice) and 2017 – the latter at Wankhede Stadium in Mumbai, the venue for this week's match.
The Black Caps have won less often against India in India than they have away against any of the other foreign countries where they've played matches – just 16% of the time.
Pakistan has been their next most challenging destination, where they have won just 18% of their matches against their hosts, followed by South Africa (19%) and Australia and England (both 21%).
Adding to the enormity of the task in front of New Zealand this week is India's strong home record in general, which includes nine wins from nine so far at this World Cup.
When India last hosted the World Cup, alongside Bangladesh and Sri Lanka in 2011, they won their last four matches, as well as two of the other four they played on home soil. The exceptions were a loss to South Africa and a tie with England in the group stage.
That makes for a winning streak of 13 World Cup ODIs on home soil.
Since they crashed out of the 2007 World Cup in the West Indies in the first round, India's record in cricket's showpiece event has been sublime, though they only have the 2011 title to show for it.
After winning in 2011 (with 7 wins, a loss and a tie), they went unbeaten in the group stage in 2015, then beat Bangladesh in the quarterfinals before losing to co-hosts Australia in the semifinals.
In 2019, their only round-robin loss was to hosts England, while their first meeting with the Black Caps ended in a washout. Their second came in the semifinals, where New Zealand stunned them in a match that unfolded over two days as a result of rain.
Overall, India's record at the last four World Cups stands at 30 wins, 4 losses, a tie and a no result. The next-best teams in that time have been Australia, with 25 wins from 35 matches, then the Black Caps, with 24 wins from 37.
That defeat in Dharamsala three weeks ago was the Black Caps' first loss to India at a global white-ball tournament since 2003, with three wins at T20 World Cups – including the one in India in 2016 – and the semifinal triumph in 2019 taking place in the intervening years.
India were also on the losing end when the Black Caps won their only major white-ball title to date, at the ICC KnockOut Trophy (now the Champions Trophy) in Kenya in 2000, and when they won the inaugural World Test Championship final in England in 2021.
But make no mistake – India's imperious home record (including 29 wins in 36 ODIs since the last World Cup) makes them the heavy favourites to advance on Wednesday.
Comment