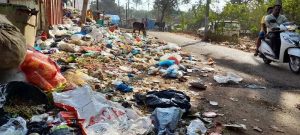 Goemkarponn desk
MARGAO: The Margao Municipal Council (MMC) has announced a hefty fine of 10k and above for those carrying garbage in vehicles and dumping it on streets or in open spaces.
MMC Chairperson Damodar Shirodkar said the decision was taken in a bid to discourage people from dumping waste in open spaces.
Shirodkar said, "We have noticed a car driver rolling down the window glass and throwing out the garbage in the open or citizen carrying the garbage bag on two-wheelers and dumping it in the open without any fear.
To curb such incidences and discourage people from dumping in open spaces, MMC has decided to impose a fine of Rs. 15 k to 20 k for four-wheelers while 10 k for those dumping garbage using two-wheelers".
Instructing Municipality workers to clean the garbage being accumulated in the open spaces, Shirodkar appealed to the citizens not to throw garbage in the open.
"Throwing garbage in the open and littering in public spaces have resulted in garbage heaps across streets and lanes of the city. To curb the garbage mess, MMC has now decided to fine the citizens who throw garbage in the open", said Shirodkar.
Shirodkar on Tuesday inspected various locations coming under the jurisdiction of MMC to identify the areas which are majorly used by the citizens to dump the garbage. Shirodkar said, "So far, Municipality has inspected five wards out of the total. Remaining 20 wards will be inspected to identify and clear "black spots" at the earliest".
Comment