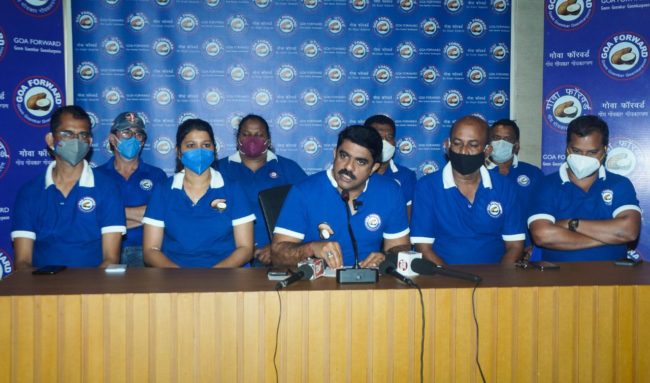 MARGAO: Fatorda MLA and Goa Forward party president Vijai Sardesai came down heavily on the BJP government on Friday alleging that the saffron party is blocking all solutions to the Sonsodo garbage issue, reminding them that public utilities should be above politics and politics over garbage could invite serious consequences like the plague.
Referring to the comment of the Minister for Waste Management Michael Lobo that the approvals for the Sonsoddo Waste Treatment Plant are pending because of inaction by the Urban Development Ministry, Sardesai said that the minister has himself exposed the wrongdoings of the BJP.
Sardesai, along with MMC chairperson Lyndon Pereira and other councillors, addressed the press and accused BJP leader Damu Naik of blocking the solution for Sonsodo by colluding with the government.
"Chief Minister Pramod Sawant and Damu Naik are double engines, who are derailing the development of Fatorda. They have created a mess with regard to the management of waste at Sonsodo." Sardesai said.
"My request to the government is to clear the Sonsodo issue, so that the people of Margao, Fatorda and Curtorim will get immediate relief. If this problem is not resolved now, then it will remain for many years to come", Sardesai said.
He also stated that the Margao Municipal Council had floated a 'Request For Proposal' to set up two Bio-methanation plants with electricity generation of 25 TPD at Sonsodo dump yard. However, though there are companies willing to participate, and despite an expert committee headed by Padmashree Sharad Kale inspecting the site on 11 December, approval is not still accorded by the government.
"MMC is not asking for money from the government, it is utilising money from the 14th Finance Commission Fund. MMC wants only approval, but that is not forthcoming from the government. Therefore, it is evident that the BJP is not willing to allow any work to proceed in constituencies with opposition MLAs." Sardesai charged.
He also ridiculed the Minister for Environment Nilesh Cabral over his idea to dispose of the waste in urban forest, saying that this same Cabral killed one lakh trees at Mollem. "Urban forest is needed for the people living in cities. I know its importance, but being the environment minister, Cabral doesn't have a clue", Sardesai said.
Sardesai also said that he has sent a notice to the concerned department with regards to the stopping of developmental works in Fatorda and will approach the court if these works that benefit the people are not started.
Comment