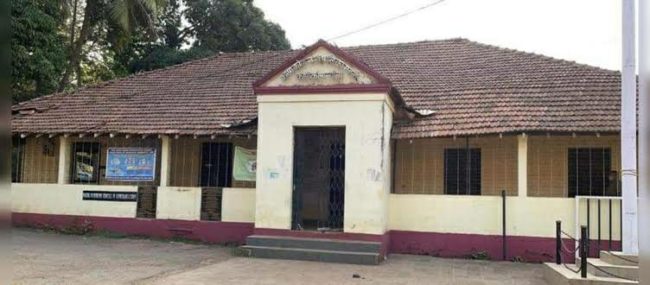 Goemkapronn desk
CANACONA – The works for the 3- storey State-of-the-art Administrative -Cum-Commercial Canacona Municipal building finally began, but proceeding at a snail's pace at Chaudi.
It may be recalled that the foundation stone for the new Canacona municipal building was laid by Urban Development Minister Milind Naik in the presence of Ex-Dy Speaker Isidore Fernandes Fernandes and Chairperson Nitu Sameer Dessai (at the fag end of than municipal council) on 20th October 2021, but the actual works of shifting the municipal administration and demolishing the old Camara building was taken up after several months ago of the new council formed.
The Rs 10 cr worth project is taken up by GSUDA is allotted to contractor M/s D S Contractor, has razed down the old Portuguese era Camara building in over two months period, and have presently commenced the levelling and excavation for pillar footing works, after virtually dilly-dallying, amidst speculation that the new council and the new MLA wants to hold a fresh foundation stone laying ceremony.
Incidentally, CMC also laid the foundation stone to construct the municipal building before 2015, when the council was criticised for not utilising the Goa Liberation Golden Jubilee Fund, but nothing proceeded beyond the foundation ceremony.
The three-storey building coming up at a sprawling area of 2100 sqm of municipal land is likely to be completed in two years. The government has allotted 7 crores of the fund through GSUDA, while according to CMC Chairperson Simon Rebello, the rest of the funds are mobilised by Canacona Municipal Council, including the 2 crores of Goa Liberation Golden Jubilee celebration fund available with the civic body of Canacona.
The new municipal building will have commercial/shops/ATMs, Canteen on the ground floor, the municipal offices and officers/Chairperson cabins, a meeting/Conference Hall will be on the 1st floor, and the top (2nd) floor will have a public hall and other related amenities and facilities.
CMC administration is presently functioning at Dr Dhillon's Hospital, near Char-rasta.
Comment