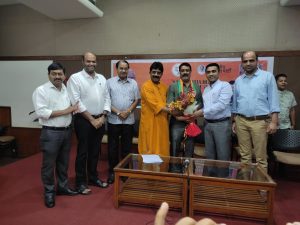 Goemkarponn desk
PONDA: The No Confidence Motion notice against the PMC Chairperson issued by eight out of fifteen Councillors will be decided on December 9 at 11 am in a special meeting at PMC.
DMA Director Gurudas Pilarnkar issued a notice in this regard.
Chairperson Ritesh Naik is in the safe zone, with one councillor signing a confidence motion to join Ritesh Naik's camp.
With one councillor among the eight who signed a no-confidence motion suddenly changing his side to support the BJP-backed Chairperson, a different twist developed to the no-confidence motion notice.
It is a setback to the opposition, who brought a no-confidence motion and respite and to Chairperson Ritesh Naik, son of Minister Ravi Naik. However, the PMC is also famous for unexpected development.
With PMC Councillor Shantaram Colvekar being seen back to the BJP camp, the no-confidence motion notice pending against PMC Chairperson Ritesh Naik, son of Minister Ravi Nakk, is likely to be defeated.
Shantaram is one of the eight who had signed a no-confidence motion notice on November 27 against the Chairperson in fifteen member council.
After signing the confidence motion, he was seen joining the BJP camp along with Chief Minister Pramod Sawant, BJP Chief Ravi Naik and Agriculture Minister Ravi Naik and PMC Chairperson Ritesh Naik and councillor Anand Naik.
With Shantaram joint BJP, its strength went to eight, which is a majority for a ruling. Hence No Confidence motion is likely to defeat against Chairperson.
Meanwhile, when contacted, Shantaram Colvekar said he was a BJP member only and had never resigned from the primary membership of the BJP.
He was just relieved from BJP when he was Chief of the Ponda BJP block. He was in BJP only but not active in party work. Today, he just went back into BJP as he wants to actively work for the party. He said it would definitely impact the confidence motion notice as he is active in BJP and supporting Ritesh Naik.
However, PMC is known for unexpected things, as Councillors are unpredictable. It may be recalled that on May 18, 2021, Shantaram Colvekar, also BJP Ponda Block Chief at that time, had contested the election for the vacant post of Chairperson of PMC.
At the same time, BJP-backed Candidate Ritesh Naik also took part in the election. It was actually BJP versus BJP election in which Shantaram won, defeating Ritesh by 8 against 7 votes. Shantaram had the support of MGP and Goa Forward councillors to defeat Ritesh Naik.
This unexpected development shocked the BJP camp at that time.
The very same day, BJP Chief Sadanand Tanavade removed Shantaram as Chief of the Ponda BJP block.
Today One and a half years, Shantaram Colvekar joined back BJP and supported Ritesh Naik. This is an unexpected shock for Opposition Councillors who had brought a no-confidence motion.
According to locals though the situation is favourable for Chairperson Ritesh Naik to retain his post, one cannot predict what can happen until the last moment.
Comment