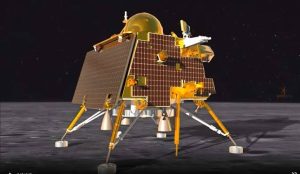 Goemkarponn Desk
PANAJI: The Indian Space Research Organisation (ISRO) announced on Friday that the Chandrayaan-3 mission's lander module, Vikram, displaced approximately 2.06 tonnes of lunar regolith (rocks and soil) during its historic landing on the Moon's surface. The event, which occurred on August 23, marked a significant milestone in India's space exploration endeavours.
Chandrayaan-3's Lander Module, Vikram, along with the rover Pragyan, successfully landed near the Moon's South Polar Region at the Shiva Shakti Point. During its descent, Vikram generated a spectacular 'ejecta halo,' a phenomenon where lunar material was expelled and displaced over an area of 108.4 square metres around the landing site, ISRO said.
Sharing the Chandrayaan-3 data on X (previously Twitter), ISRO estimated that the landing event released around 2.06 tonnes of lunar epi-regolith. The space agency also shared a document providing detailed insights into the findings
The space agency said that scientists from the National Remote Sensing Centre (NRSC), a division of ISRO, captured and analysed this lunar ejecta by comparing pre and post-landing high-resolution images from the Chandrayaan-2 orbiter's Orbiter High-Resolution Camera (OHRC), acquired before and after the landing event, ISRO was able to characterise this ejecta halo. The halo appeared as an irregular bright patch surrounding the lander, indicating the extent of lunar material displaced during the landing sequence.
A thorough study called "Characterisation of Ejecta Halo on the Lunar Surface Around Chandrayaan-3 Vikram Lander Using OHRC Imagery" was published in the Journal of the Indian Society of Remote Sensing.
This research offers insights into the interaction between rocket plume forces and lunar soil during soft landings. These findings will enhance simulation models, reducing surface disturbance in upcoming missions. Additionally, the study shows the potential of using orbiter images to evaluate changes on the lunar surface caused by lander systems.
The discovery of this significant lunar material displacement opens new avenues for scientific research. Studying the composition and properties of this lunar material could further offer valuable insights into the Moon's geological history.
Earlier, on August 23, India made a historic achievement as the Chandrayaan-3 lander module successfully landed near the moon's South Pole. This marked India as the fourth country, following the US, China and Russia, to accomplish this feat.
Comment