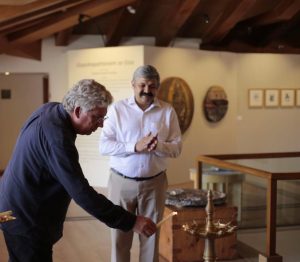 *The month-long exhibition is set on the theme Discovering India (Goa) through Art.
*To feature 15 noted artists
Goemkarponn Desk
PANAJI: As a part of providing unique experiences to its members & to the Art Community in Goa, Club Mahindra is all set to host Discover India Art Exhibition Season 2 until May 31 at the Unwinding Lounge at Club Mahindra Varca Resort, Goa. Discover India Art Exhibition Season 2 is based on the theme of Discovering India (Goa) through Art.
Pratik Mazumder, Chief Marketing Officer, Club Mahindra, says Our passion for creating magical memories and enhancing experiences is at the forefront of everything we do. Discover India Art Exhibition Season 2 is the perfect opportunity for us to bring this passion to life, by showcasing an incredible range of authentic, regional, and global art and culture. Get ready to be amazed, inspired and delighted as we take you on a captivating journey through the world of art, unlocking hidden treasures and creating unforgettable moments along the way.
Curator of the exhibition Wendy Coutinho states that "Goa attracts people from all over our country and the world for apparent reasons. Through this exhibition, the viewers are given an opportunity to see beyond the visible and delve into the long and complex history of this province. An amalgamation of various mediums and forms, this contemporary art exhibition, celebrates the rich legacy of Goa which is a fascinating and complex tapestry of cultural, religious, and political influences".
Discover India Art Exhibition Season 2 highlights the need to recognise and celebrate the diversity of Indian culture and history in this case, Goas history, which is often overlooked or overshadowed by popular narratives and stereotypes. The viewers are encouraged to explore and appreciate the beauty and complexity of the journey that this province undertook over several centuries as well as its significance in Goan culture today.
The exhibition features a range of visual art by renowned Goan artists, including paintings, sculptures and installations that depict the journey of this region. The artists showcasing their works across mediums include, Ryan Abreu, Leticia Alvares, Bhisaji, Shailesh Dabholkar, Shripad Gurav, Sweety Joshi, Subodh Kerkar, Sidhan Kundaikar, Darshan Mahajan Madhurkar, Midhun Mohan, Chaitali Morajkar, Viraj Naik, Pradeep Naik,
Comment