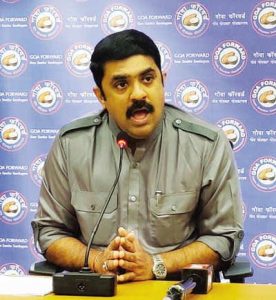 Goemkarponn desk
MARGAO: Referring to the case of a tourist who is currently in the hospital battling for her life due to a drug overdose, Goa Forward party president Vijai Sardesai said that Chief Minister Dr Pramod Sawant could not excuse himself from accepting responsibility for failing to control the rampant distribution and sale of drugs in Goa.
"Today, the Sawant government has prioritised event management over everything else in the state. The government appears to have an unofficial policy to organise one of two events every month, which cost the exchequer around 2.5 Crore or more; At the same time, he and his supporters are busy entertaining themselves with these decadent extravaganzas; drugs are sold freely across the state," Sardesai said. "Goans had felt some respite after the crackdown of the drug trade in the state by Hyderabad police, but unfortunately, it appears that the trade is back in full swing once again".
Goa Forward President accused the Chief Minister of having no action plan to control the drug trade. "His standing excuse is that the police can catch drug peddlers but not the suppliers. But under his leadership, strangely, the police were unwilling to cooperate with the Hyderabad police to apprehend the drug suppliers. Even when a confidential letter is sent to the government listing the bars and pubs that play loud music and those which are hubs of the drug trade, the government has not taken any action", Vijai added.
It's a matter of concern that Goans who depend on the tourism industry are getting more fearful of Goa's reputation as a drug logistics hub and drug tourism state, which will destroy this renowned tourist destination's worldwide reputation and impact their livelihood. Even the tourism minister, who was once vocal against someone he labelled as Pablo Escobar, is silent as tourists in North Goa fall into the drug trap. "Has his Pablo Escobar left the State, or has the drug lord joined hands with the Government?" questioned Sardesai.
GFP President Vijai Sardesai demanded that Chief Minister either announce his action plan to tackle Goa's drug trade or resign and hand over the reins to someone capable of ending the sale of drugs in Goa.
Comment