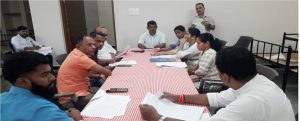 Goemkarponn desk
CANACONA: Taking a strong view of default in payment of rentals, Canacona Municipal Council resolved to seal 18 of its 27 Shops for failure to pay rentals amounting to over Rs.52 Lakhs.
The CMC meeting briefly turned stormy after Councillor Dhiraj Naik Gaonkar called to withhold Contractor payments for not carrying out the works at Dumane Garbage Treatment Plant (GTP) properly and virtually turning it from bad to worst.
Naikgaunkar alleged because of the Contractor, the treatment of garbage had come to a standstill for some days. In such circumstances, contractors' bills should be withheld', demanded Naikgaunkar.
Soon, a verbal dual began between Chairperson Ramakant Naikgaunkar and Dhiraj Naikgaunkar, trading charges at each other, with Chairperson stating that the Contractor carried out the works and also given all work-completion papers to the council, there was no justification to hold their payments.
Earlier it was hotly debated over the 52 lakh rental areas from the Municipal Shops. 18 of the 27 municipal shops on Rent have failed to pay their rentals, and their outstanding runs to over 52 lakhs.
It was resolved to initiate action against the defaulters and Seal the shops if defaulters continue not to pay up their arrears.
Demands were made to evict the vegetables and fruit sellers alongside the Road from Gulem to Chaudi.
Chairperson Naikgaunkar informed over 98 lakhs of rupees have been collected from 101 shacks and huts on the municipal Coast for the current season, while from 67 Shacks, around 89 lakhs of rupees were collected for the last season.
Councillors also asked about municipal staff not wearing their uniforms during duty/office hours. ' The staff regularly paid their washing allowances, but most of them failed to wear their uniforms and demanded strict disciplinary action against those who did not wear their uniforms during duty/.office hours.
Chairperson informed the council that inspite of having so much vacant land at the commercial Chaudi hub, no development can be made as this land comes under a No Settlement Zone, though there is a settlement zone at Palolem and coastal areas. Still, no development can be made as this land falls under CRZ., and informed that the council will put a special suggestion to the MLA and GLA Speaker for resolving this perplexing issue which hinders developmental works.
Dy. Chairperson Laxuman Pagui, Councillors Simon Rebello, Hemant Kumar Naikgaunkar, Amita Pagi, Ganesh Madgavkar, Shubham Komarpant, Sara Naik Desai, Narcisco Fernandes and Dhiraj Naikgaunkar, besides CMC Chief Officer Madhu Narvekar and a few municipal staff, were present at the meeting.
Comment