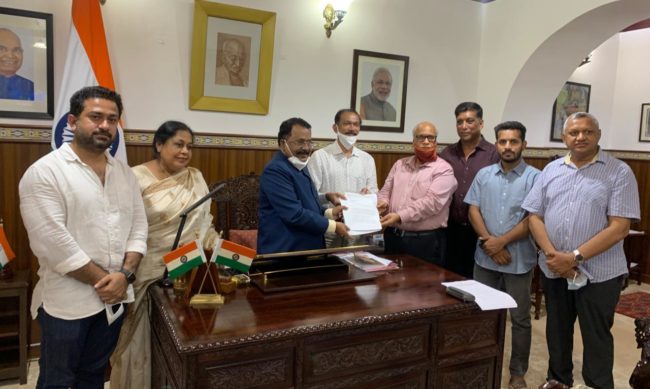 Goemkarponn Desk
Panaji: Congress Party delegation led by President Girsh Chodankar today called on the Governor of Goa P.S. Sreedharan Pillai and submitted two Memorandums raising various issues concerning the State of Goa and demanding probe into Pegasus Spying by Modi Government. The Congress Party has demanded dismissal of the BJP Government under Chief Minister Dr. Pramod Sawant for its failure to protect the interest of Goa and preserve the Identity of Goa.
The second memorandum addressed to the President of India has raised concerns about the threat to the Nations Security after reports of Spying and Snooping through Pegasus emerged. Congress has demanded that thorough probe needs to be ordered in the Spying incident.
The delegation comprised of Leader of Opposition Digambar Kamat, General Secretary and former MLA Agnelo Fernandes, Mahila Congress President Beena Naik, Youth Congress President Adv. Varad Mardolkar, Seva Dal Incharge Shankar Kirlaparkar and NSUI President Naushad Chowdhary.
The memorandum stated "We take this opportunity to welcome you as the Hon'ble Governor of Goa and extend our wishes for your tenure as the Constitutional Head of the State of Goa".
Drawing the attention of the Governor on various issues, the memorandum addressed to the Governor states "You have taken over as the Governor of Goa when the State is facing challenges due to Covid19 Pandemic, Economic Slowdown and Collapse of Law and Order in the State due to complete mismanagement of the Government. There is a threat to the Environment, Forest, Wildlife and the Identity of Goa. The failure of the Government to come out with an Action Plan to address the issues concerning the Lives and Livelihoods of the People have created fear, apprehensions and insecurity in the minds of the People".
We seek your urgent intervention to find immediate solutions to the below mentioned issues of core importance. Your pro-active action will surely bring respite to the sufferings of the people in Goa, stated the Memorandum.
The nine page memorandum submitted to the Governor mentions in detail about the collapse of Economy, Mismanagement of Covid Pandemic, Environmental issues, Collapse of Law and Order, Failure of the Government to prepare Academic Action Plan, Failure of Disaster Management Team to handle Cyclone and Floods, Corruption, Collapse of Administration and Murder of Democracy by the BJP Government.
The memorandum has highlighted the issues like destruction of Environment through Three Linear Projects, Converting Goa into Coal Hub, Suppression of Voice of the People on CZMP and attempts of BJP Government to hand over Goa to Crony Club, Deaths due to shortage of Oxygen, Ivermectin Tablets Scam, Failure of Government to protect River Mhadei, Failure of Government to restart Mining, Failure of Government to revive Tourism and Converting Goa into a Criminal Destination.
Comment