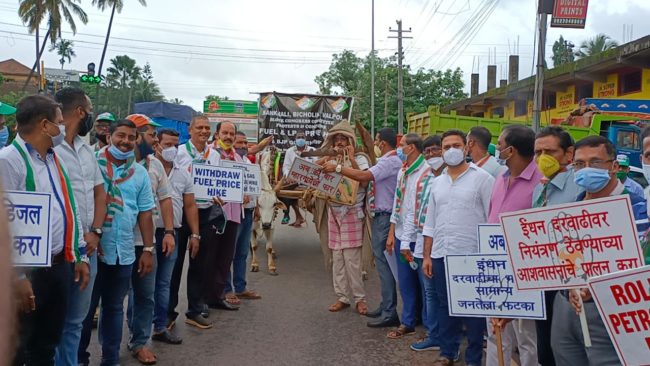 BICHOLIM: The Goa congress today demanded with the government to abolish all the taxes on petrol and diesel thereby giving relief to the common men.
Today a special bullock cart rally was organized by the congress at Sanquelim were the office bearers of the congress were present. The rally commenced from PHC Sanquelim and went till the Shivaji statue.
Speaking on the occasion the GPCC President, Girish Chodankar told that the government is looting the common men by making hike in petrol prices. "When congress government was there the petrol, diesel and gas prices were very low but now they have gone beyond control and the BJP government is totally responsible for this" Chodankar told.
He told that during congress government they bore the hike in prices of petrol and gave petrol at low price to the people. "Parrikar had promised that there will be no hike in petrol prices and there will be zero VAT. We demand with the government that all the taxes on petrol should be abolished" Chodankar demanded.
"The actual price of petrol and diesel is about Rs 35 and with central and state tax the price reaches Rs 98" he told adding "if they want to help the people in this covid situation they should lower this price."
He also told that the gas price has increased which has affected the people in every household. "BJP has forgotten 'aache din' of the common people but are only helping the wealthy people like Adani and Ambani" he told.
Comment