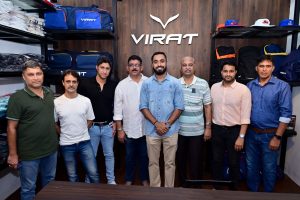 Goemkarponn desk
PANAJI: The establishment of a full-fledged cricket stadium in Goa by the Goa Cricket Association (GCA) will hugely benefit the association in helping develop a base of cricket talent to help age level teams who today are struggling without the proper facilities, ex-Ranji player Suresh Mahadevan, said.
Speaking at the inauguration of A&S Sports (Virat factory outlet), a one-of-a-kind cricket equipment and merchandise outlet in the state capital, Mahadevan said that today Goa is only producing talented individuals but cannot produce a whole team because the base is lacking.
"When the stadium comes it will be beneficial for all age groups, not only the team vying for Ranji trophies. Basic requirements (facilities) for the juniors should start at age level group tournaments. When GCA has its own facilities large enough to handle all these tournaments then it will be the best thing to happen in Goa and it should happen," Mahadevan said.
"We are unable to produce that base. There are individual players who are coming up and bringing a name for Goa but if you have that base you can build a good team for Goa," he added.
"If completed, then it will be good for the entire Goa and not only for cricketers but also for locals. The last match was held in Fatorda in 2004 after that the BCCI said that until the GCA has their own ground they will not allow matches to be held in Goa," Ex Ranji Player Prashant Kakode said adding that IPL, international matches can also be played.
Speaking at the opening of the store, co-founder Sushrut Nasnodkar said they started the store because of the quality they offered. "The reason we started Virat in Goa is because of the quality. They have been delivering these products not only in Mumbai but all over the world. They have been sponsoring the Nepal team, the UAE team, all the leagues that are happening on the telly pro kabaddi, table tennis leagues, kho-kho league, everywhere their presence is there. So we wanted to get a brand in Goa itself like Virat somewhere in Goa because of the quality they have," Nasnodkar said.
"This is the first outlet in Goa. Anything that is ordered in Goa they have to go through us. Any clothing that comes they have to go through us. We can do customised clothing as well," he added.
While Co-found, Anish Pai Kakode said that he was planning to set up this store for quite some time. "Sushrut and me we've known each other for quite some time. It was just a normal conversation and he knows the market. 2-3 months the set up was done. This is our first business in the sports industry. We are into the hotel industry. We have approached as of now, spoken to the teams, and the local tournaments. We have been getting a good response, "he said.
Comment