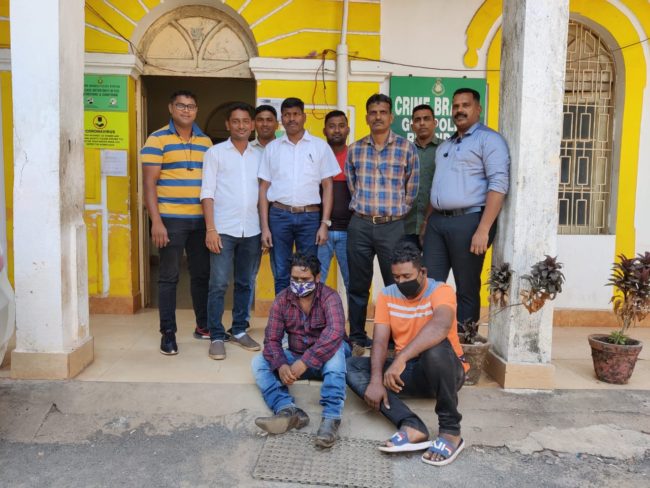 Goemkarponn Desk
Panaji:Crime Branch Ribandar conducted raid on 06.02.2021 at 16.30 hrs at Aayur Saloon & Ayurvedik Massage at Colva Salcete Goa over prostitution activities and rescued five victim girls who were procured and forced into prostitution activities by accused persons namely 1) Mr. Suraj @ Samarodh Sharma s/o Chandram Sharma, age 32 years r/o H. No. 432/7 Ghotmorod Xeldem Quepem Goa & 2) Mr. Santosh s/o Sadhu Sonavane, age 32 years r/o 3rd ward, behind Colva Church, Colva Salcete Goa n/o Kamatghar road behind Ramesh Bhavsar, Uniyon office, Varhala Devi Nagar, Bhiwandi Thane Maharashtra who were living on the earnings of prostitution business.
Prostitution raid was conducted by P.I Shri Laxi Amonkar, assisted by PI-Shri Satish Gawade, PC-7117, Bhagwan Palyekar and PC-7669 Shri Sankalp Naik of Crime Branch and two lady Home Guard of Margao Town Police Station namely Mrs Suchita Velip & Mrs Pramila Velip & NGO.
In this connection an offence vide Crime Branch P.S. Cr. No. 04/2021 u/s 370 (3) r/w 34 IPC & Sec 4, 5 & 7 of Immoral Traffic (Prevention) Act, 1956 on 06.02.2021 stands registered by PI-Shri Satish Gawade, wherein above named accused persons are arrested and remanded for five days Police Custody. Further investigation is in progress under the supervision of DySP Crime Smt. Sunita Sawant and the Superintendent of Police Crime Branch Shri Shobit Saxena, IPS.
Comment