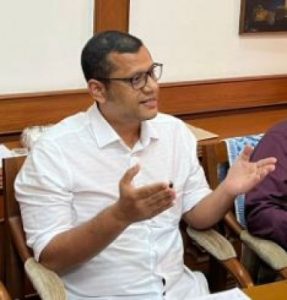 Goemkarponn desk
MARGAO: "This is just the beginning. After my Complaint Letter on 5th December 2022, Goa State Expert Appraisal Committee now decided to recommend to Goa Environment Impact Assessment Authority for immediate closure of M/s Orange Fox Steel Pvt. Ltd. in Cuncolim Industrial Estate," informed Leader of Opposition and Cuncolim MLA Yuri Alemao.
"This is a strong message to all illegal & polluting units of Cuncolim Industrial Estate. The health of the People is paramount. I once again urge Authorities to proactively ACT against other illegal & polluting Units as well before it is too late," stated Yuri Alemao.
Reacting to the recommendation made by Goa State Expert Appraisal Committee to Goa State Environment Impact Assessment Authority to close down illegally operating Steel Units, Cuncolim MLA has said that he will not keep quiet till all such units are shut permanently.
Last so many years, Cuncolim Residents have been facing the menace of Air and Water pollution due to the illegal operations of various Steel Units and Fish Mills in Cuncolim Industrial Estate.
"I am happy that Authorities have taken cognizance of the alarm raised by me and acted swiftly. I hope the Government Authorities will continue to remain vigilant and put a permanent stop to all polluting units," said Yuri Alemao.
Cuncolim Industrial Estate was established by the then Congress Government to provide employment opportunities to the local youth. Unfortunately, the present Government has allowed the Industrial Units to operate illegally. No jobs are available, but there is pollution in plenty in Cuncolim, charged Yuri Alemao.
"I appeal to Government to activate all departments and keep a close watch on the operations of the Units in Cuncolim. Some Units are causing huge losses to State Revenue by illegal productions beyond specified limits. A monitoring system needs to be put in place immediately," Yuri Alemao said.
Comment