About project:
-Total cost of project is Rs 2.30 lakh
-Funded by Department of Science and Technology (DST), Government of India
– Innovators are currently in the process of filing a Patent at Indian Patent Agency (IPA)
Key features of quadcopter:
– Can carry pesticides of upto 15 litres
– Can reach to the height of 50 feet and above
– Can target 11 trees in 17 to 18 minutes of operation
-sprays pesticide precisely on an infected area
Technical features:
– Weight of drone: 30 kg
-Made up of carbon fiber material
-Battery capacity: 20,000 milliampere hour (mAh)
-Uses four brushless motors (propellor motors) for its operation and hence the name
-Detects infected coconut by Processing an Image (IP) of infected area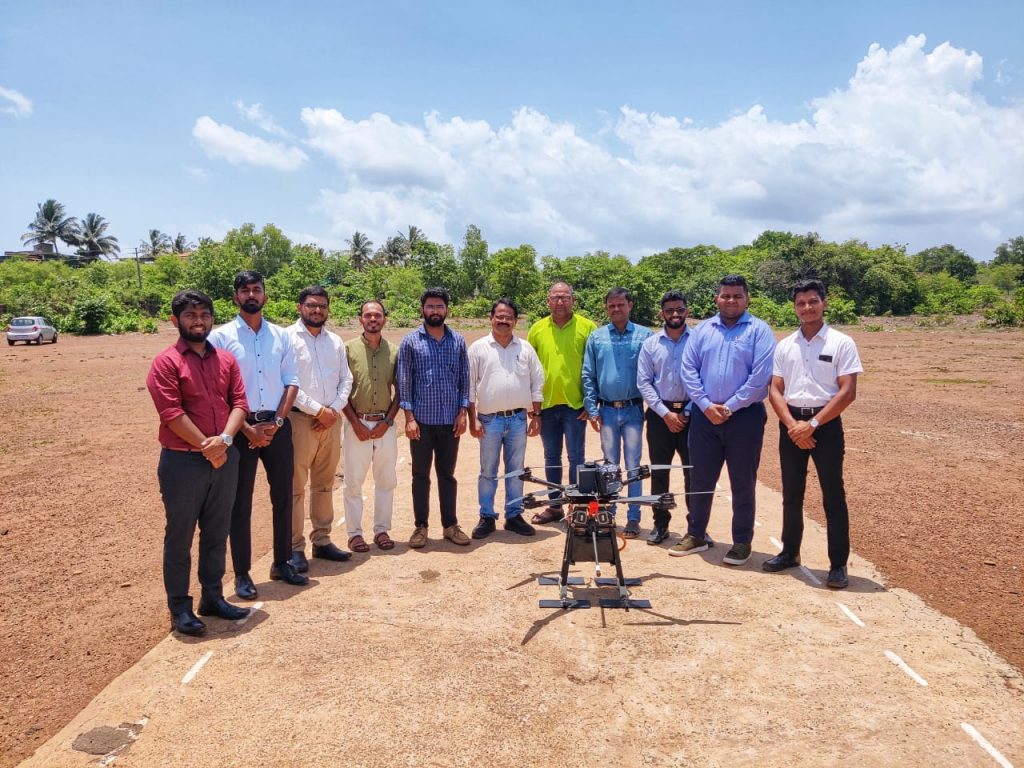 -Uses wireless digital camera which can zoom upto 16 mega pixel and take the video of affected area on Android application;Go FPV;
-Live feed of camera is can be seen on any Android phone
-Drone is controlled using Electronic circuitary and and is Control System based.
Goemkarponn Desk/Sthrigdhara Naik
FATORDA:Engineering degree students of Don Bosco College (DBCE) of Engineering Fatorda came up with an innovative idea of designing a quadcopter drone to spray the pesticide precisely on an infected coconut and help farmers get rid of it in minimal time.
This precision-making drone sprays the exact amount of pesticides precisely on the coconut which is infected thus reducing the amount of pesticide sprayed on each coconut in comparison to manual spray.
The final year B. E. (Bachelor of Engineering) students Alric Godinho, Chris Fernandes, Aaron Fernandes, Reeve Fernandes and Valian De Souza of Mechanical Engineering branch designed, developed and analyzed this drone, the process of filing a patent of which at Indian patent agency (IPA) is currently in the processing stage, informed Gaurish Samant, Assistant professor in Mechanical Department.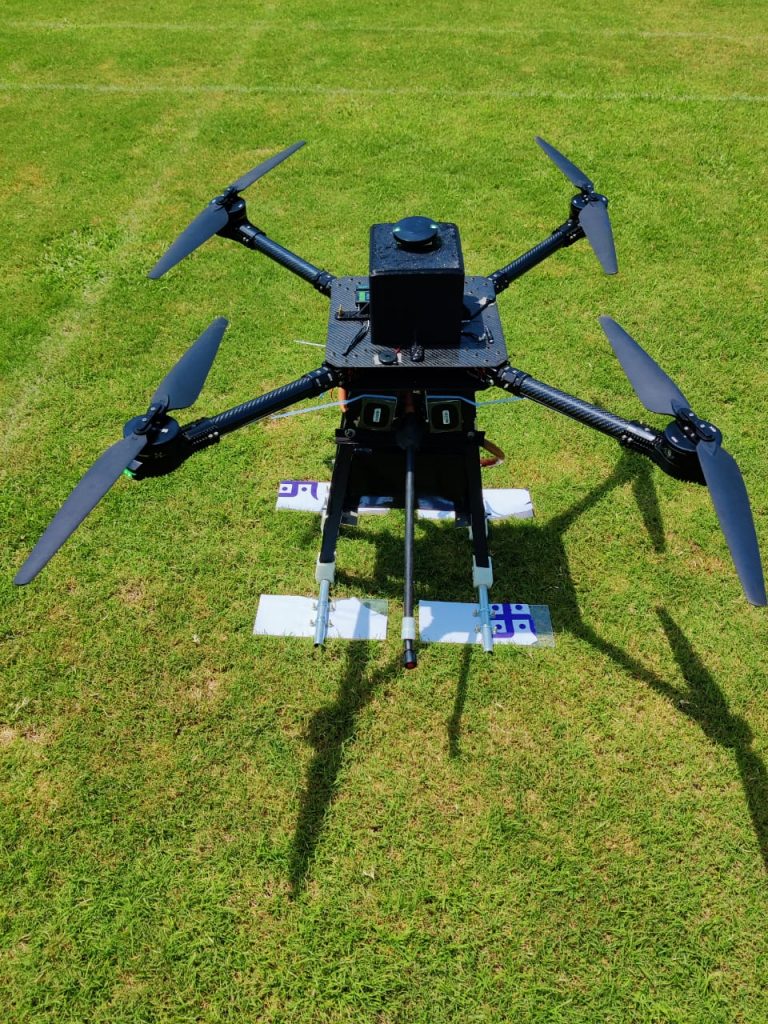 Agriculture is the foundation and stronghold of India and economy and contributes to approximately one fourth of the nation ;s GDP. The use of pesticides during manual spraying can result in some chronic illness. So, by adapting the advanced technologies we can reduce the percentage of health issues of farmers," added Prof Samant.
Prof. Samant who guided the students to achieve this innovative goal informed Goemkarponn about key features of the project. Quadrone can carry upto 15 litres of pesticides and can reach a height of upto 50 feet and above. It can target 11 trees in 17 to 18 minutes of it's operation and has ability to spray pesticide precisely on an infected area.
Furthermore, the weight of drone is made as low as possible by using carbon fiber which is lighter in
weight. The total weight of drone is 30 kg which includes a fully filled 15 litre capacity pesticide tank. The drone is powdered by 20,000 mAh battery and uses four propellor motors for its operation.The digital camera used in here can zoom upto 16 mega pixel to give a precise view of infected area. Live video of infected region can be viewed on any Android phone on Android application ;Go FPV, informed Prof. Samant.
Adding Prof Samant said the quadcopter has been tested and successfully demonstarted to the officers of the Directorate of Agriculture. Focusing on it advantages, Prof Samant said, the Quadcopter mounted with a sprayer and camera sprays pesticides precisely within a smaller amount of time. It makes the spraying job easier and faster without wasting the pesticides and reduces the labour force requirement, prevents chemical hazards to workers and the environment, and increase coconut pest controlling efficiency.
Speaking about the reason behind implementing the aforementioned idea, Prof Samant said the
coconut pluckers climbing at a height above 20 feet involves life risk;It is risky for a coconut climber or coconut plucker to climb the height of above 20 feet with a tank of pesticides. Also, when we spoke to experts and researchers in the field of Agriculture, we learnt that the reason behind reduction in the size of coconut is early attack by pests on the baby coconut and not due to mobile tower radiations.
Since this infection is similar to viral infection, that is it transmits from one tree to another at a rate
faster than the process of spraying of pesticides manually can tackle.
Based on these hypothesis we proposed a project to address these problem and treat the infection at
early (baby) stage. If this infection is controlled at early stage, the farmers will not have to compromise on size of a coconut.
When spoken to Saurabh Raikar, Assistant Professor in Mechanical Department, who was one of the reviewer for this project said, this project, "Design and development of drone for precision spraying on coconut trees; will be very helpful to the people working in the sector of Agriculture.
It's scope is not only limited to coconut trees but can be explored for other applications in
Agriculture by making slight modifications. Don Bosco College of Engineering has always been promoting and supportive to such initiatives and projects which will benefit the society.
Comment