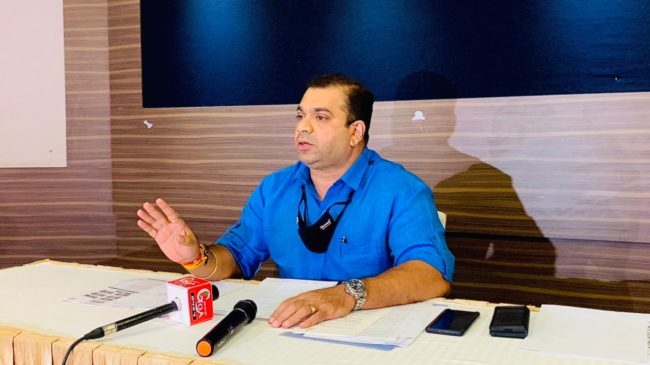 Goemkarponn Desk
Panaji: Taking up the cause of thousands of students who are scheduled to appear for SSC and HSSC examination of Goa Board, Porvorim MLA Rohan Khaunte has written to Prime Minister Narendra Modi seeking his intervention to postpone the examination in lines with CBSC and ICSC Boards.
Khaunte said that when centre has postponed the examination of both the boards, why is that CM Pramod Sawant is adamant on holding offline examinations for Goa Board, when students have already expressed their fear and apprehensions amidst rising covid-19 cases.
The MLA accused CM of acting selfish by curtailing the Assembly session fearing Covid-19 but at the same time refusing to postpone the Board Examination, despite students pleading for the same through various platforms.
He said that the State government has been playing with the lives of people in the name of economy, which is reflected in the skyrocketing number of covid-19 cases in the state.
The MLA said that he has already written to the PM seeking his intervention to troubleshoot the existing crisis faced by the students due to adamant and stubborn attitude of the chief minister.
In his letter to the PM, Khaunte has requested for postponement of examination for 12th of Goa in lines with CBSC and ICSC or issuance of central directions for online examination throughout the nation irrespective of the Boards which will ensure uniformity amongst the students.
He has also asked PM to give direction to Goa Board to conduct examination in online mode taking into consideration covid spike and demand of the students for online exam in continuity of online schooling.
Khaunte has also sought directions for unified admission processing period providing equal opportunity to students from various boards.
Speaking about the current situation in the state, Khaunte questioned why Goa is averse to put restrictions or curfew. "I am not talking of total lockdown but there should be certain restrictions," he said.
" When states like Maharashtra, MP, Rajasthan, HP hae postponed their board exams and UP and West Bengal are also monitoring and the examination, Goa cannot be an exception," he said.
Khaunte said that the new strain is spreading very fast and some of the students are also infected.
" There are SOPs but we also know how many of it are followed. 19,000 students will appear for 10th and 16,000 will appear for 12th," he pointed out.
"We had raised the issue about the students who live in places where there is no connectivity. The children were told to go for self studies and finish the portion."
"We are looking a new sort of studies from offline we have shifted to online. These children are corona warriors because they are changing the system at a very young age. At that time, stress can force them to take any decision which can be regretful," he added.
Khaunte clarified that he was not asking for cancellation of the examination. "Has government reviewedwhether students have completed their portion? Lot of portion came to them through online and they were never taught about it."
When you can teach them online, whats the harm in holding examinations online, he questioned.
Comment