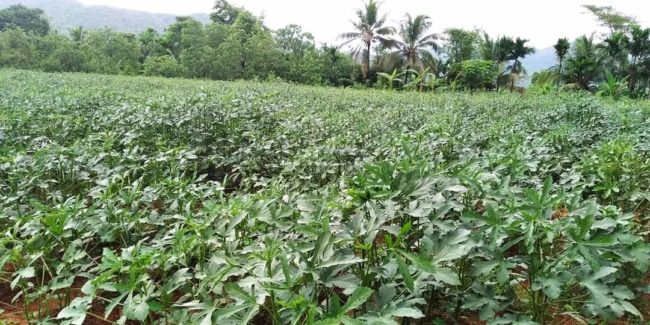 Devendra Gaonkar/ GOEMKAPRONN
SATTARI: On one hand we see how the government officers misuse the agricultural schemes to benefit themselves and here is a story of the farmers, who have been waiting for the compensation for damages to their crops for years.
Not only this, the farmers on their own have set a new record. The farmers of Kevadem village, Sattari Taluka have sold 17 tonnes lady fingers to the Goa Horticulture Corporation in the month of May this year.
This year Kevadem village farmers have got the bumper crop of lady fingers compared to the last year.
Last year their lady fingers yield had got the Yellow Vein Mosaic virus due to which the vegetable yields were destroyed and the farmers had faced huge losses.
At that time the Kevadem village farmers, who had grown the lady fingers, had approached the Valpoi Agriculture Zonal office and complained about the damages.
Following this, the Valpoi Agriculture Zonal Officers had inspected the site and informed about the Yellow Vein Mosaic disease.
The village farmers had applied for compensation, for lady fingers yields loss. However, till date they didn't get the subsidy of yields loss say farmers.
"This year we have grown the Radhika Variety of lady fingers in our agriculture fields. We have bought that variety from Belgaum. We are all Independent farmers. We are not getting any benefit from the Goa Agriculture Department, not even the demonstration and training session that how to grow the lady fingers and other vegetables in our village soil," said a farmer Vinay Gawas.
The Kevadem village farmers demand Government that to provide the Training Session on how to grow the vegetables, through the ATMA.
Comment