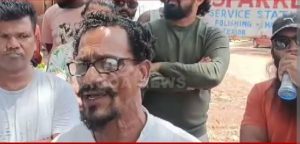 Goemkarponn Desk
MORMUGAO: Several residents of Desterro ward in Mormugao Constituency on Friday hit out at Ward Councillor Ramchandra Kamat while claiming that he was at loggerheads with the MLA Sankalp Amonkar.
Speaking to media , Ravlu Pednekar said that ward councillor Ramchandra Kamat who is also the vice chairman of the Mormugao Municipal Council ( MMC ) had failed to do his job and had been engaging in unnecessary politics.
" Kamat is a member of the BJP but making statements against MLA Sankalp Amonkar who is also a BJP member and it looks like it's BJP vs BJP here. Kamat does not even attend meetings with the MLA Sankalp Amonkar " Said Pednekar
Another resident Seby DSouza said that after immense requests , the internal roads were finally taken up by Sankalp Amonkar
" Every time we call him, Kamat says you must call the MLA Sankalp Amonkar , basically because we had been supporters of Amonkar . Our works are not done and he must realise that he is the councillor of the entire ward " said D'Souza
Another resident Sameer Khan said that the people had been struggling with water logging in the gutters that had caused a mosquito breeding ground
" Residents faced immense hardships and some even got dengue and we called Kamat but he did not entertain our calls. We finally tried to clear it ourselves using a JCB with the help of Sankalp Amonkar and this work was that of the Municipality but was not done .
We want to ask him what he has done since he got elected. The sewage chambers are damaged and overflows in the gutter.
The gutter has different allignments and water gets logged here but no one is bothered. The Councillor should have done the pre monsoon works but he only says we must approach Sankalp Amonkar. Kamat must resign in case he does not want to serve all the people in this ward and make way for a capable person " said Khan
"Kamat is also BJP and Sankalp Amonkar is also BJP and both must work in coordination becuase ultimately the people suffer with both the leaders at loggerheads. It looks like Mormugao has two BJPs ,one BJP of Sankalp and one BJP of Kamat . We want development and we are not bothered about the politics that is going on " said Khan
Comment