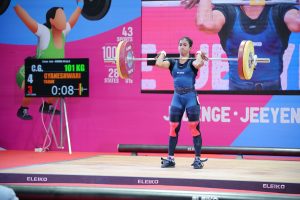 • Chandrika Tarafdar breaks Clean & Jerk National Record in 45 Kg
• Haryana wins both gold medals in Netball
Goemkarponn desk
PANAJI: Maharashtra's Dipali Gursale and Prashant Koli of Services Sports Control Board (SSCB) created new national records on the opening day of the weightlifting competition to clinch the gold medals in the 37th National Games at the Campal Sports Village here on Wednesday.
In the women's 45 kg category, Gursale improved the national mark in Snatch with a third lift of 75 kg and went on to lift a total of 165 kg to clinch Maharashtra's first gold in this edition of the National Games.
West Bengal's Chandrika Tarafdar broke the clean & jerk national record to secure the silver while T. Priya Darshini of Telengana bagged the bronze medal.
Gursale, who hails from Sangli district, broke Komal Kohar's snatch record of 74 Kg and Jhilli Dalabehera's total record of 164 kg. Chandrika Tarafdar also broke Jhilli's clean & jerk record of 94 Kg. Later, Koli managed to pip Maharashtra's Mukund Aher for the men's 55 kg gold medal by beating the latter's national mark in snatch by one kilogram.
He lifted an aggregate of 253 kg (115 in snatch and 138 in C&J) to add second gold medal to Services tally. S. Guru Naidu of Andhra Pradesh won the bronze.
In the Women's 49 Kg category, Gyaneshwari Yadav clinched the gold lifting a total of 177 Kg. Preeti of Haryana secured silver with a total of 174 Kg while former Asian Champion in the 45 Kg, Jhilli Dalbehera finished with a bronze medal, lifting 167 Kg.
Elsewhere, Haryana bagged both the netball gold medals at the Campal Multipurpose Indoor stadium to move into second position in the medal standings.
Haryana men beat Kerala 45-42 in a tightly fought final to secure the gold medal while the women beat Karnataka 58-52 to be on top of the podium.
In the men's bronze medal match, Jammu & Kashmir and Delhi played out an exciting 73-73 draw to be declared joint winners.
In the women's bronze medal match, Delhi and Telangana were also declared joint winners after the match ended in a 64-64 tie. At the Athletics Stadium in Bambolim, Women's Rugby 7s got underway with top seeds Odisha women dominating Goa with a 52-0 win in the first match of Pool A.
Fourth seed Kerala beat Bihar 40-5 in Pool A. In Pool B, second seeded Maharashtra beat Karnataka 48-0 while West Bengal got the better of Delhi 38-10. In the men's matches, Haryana beat Goa 31-0 in Pool A.
In the other match of the group, Odisha edged past Kerala 15-12 to start with a win. In Pool B, West Bengal beat Punjab 19-7 while Maharashtra beat Bihar 19- 12.
Important Results:
Netball Men's Finals: Haryana beat Kerala – 45-42 Men's Bronze Medal: Jammu & Kashmir tied Delhi – 73-73 Women's Finals: Haryana beat Karnatak – 58-52 Women's Bronze Medal: Delhi tied Telangana – 64-64 Weightlifting Women's 45 KG Gold – Dipali Gursale (Maharashtra) – Snatch – 75 Kg, Clean & Jerk – 90 Kg, Total – 165 Kg Silver – Chandrika Tarafdar (West Bengal) – Snatch – 67 Kg, Clean & Jerk – 95 Kg, Total – 162 Kg Bronze – T. Priya Darshini (Telengana) – Snatch – 69 Kg, Clean & Jerk – 92 Kg, Total – 161 Kg Men's 55 KG Gold – Prashant Koli (SSCB) – Snatch-115 Kg, Clean & Jerk-138 Kg, Total-253 Kg Silver – Mukund Aher (Maharashtra) – Snatch-12 Kg, Clean & Jerk-137 Kg, Total – 249 Kg Bronze – S. Guru Naidu (Andhra Pradesh) – Snatch-104 Kg, Clean & Jerk-126 Kg, Total- 230 Kg Women's 49 KG Gold – Gyaneshwari Yadav (Chattisgarh) – Snatch-80 Kg, Clean & Jerk-101 Kg, Total – 177 Kg Silver – Preeti (Haryana) – Snatch-81 Kg, Clean & Jerk-100 Kg, Total – 174 Kg Bronze – Jhilli Dalabehera (Odisha) – Snatch-76 Kg, Clean & Jerk-96 Kg, Total-167 Kg Rugby 7s Women Pool A: Odisha bt Goa – 52-0, Kerala bt Bihar – 40-5 Pool B: Maharashtra bt Karnataka – 48-0, West Bengal bt Delhi – 38-10 Men Pool A: Haryana bt Goa – 31-0, Odisha bt Kerala – 15-12 Pool B: West Bengal bt Punjab – 19-7, Maharashtra bt Bihar – 19-12 Basketball Women Pool A: Kerala bt Goa – 89 – 19.
Comment