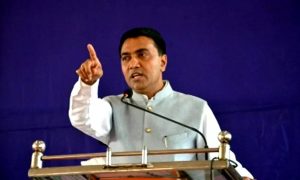 Goemkarponn Desk
PANAJI: In a major admission, the Chief Minister Pramod Sawant today alleged that several elected representatives are involved in manipulating the funds allotted to the panchayat or municipality for waste management under the 14th and 15th finance commissions.
Sawant said that he has personally observed the level of corruption involved in waste management system at the local body level.
"I have seen how they indulge in corruption. Rs 60,000 to Rs 70,000 are removed in the name of waste management but not even Rs 20,000 is actually spent," alleged Sawant.
The Chief Minister raised concern that despite spending crores of rupees on waste management, the garbage menace is growing at alarming proportion.
He pointed out that the Waste Management Corporation alone spends around Rs 160 crore annually on garbage management.
"In addition to this, the local bodies like Municipalities, Panchayats and Tourism Department also spends funds on garbage management. Even then the problem of garbage persists," he said.
Sawant appealed local self-government bodies to take the issue seriously and take responsibly of keeping areas under their jurisdiction clean and green.
He asserted that the government is ready to give money and technical support but Panchayat and Municipalities will have to take the responsibility of keeping areas under their jurisdiction clean.
He also asked the stakeholders to act tough on those seen dumping garbage on the roadside and at public places.
Sawant said that govt is contemplating to have transfer stations at garbage black spots across the state where people generally tend to throw their garbage.
"Goa has Asia's largest Solid Waste Management Plant at Saligao. Goa has developed Waste Management systems for all types of waste including E-waste, construction waste, bio-medical waste etc," he added
Sawant also urged all stakeholders to take efforts for the waste management in the state. It is our responsibility to keep Goa clean and protect its identity for enhancing the tourism and ease of living.
Comment