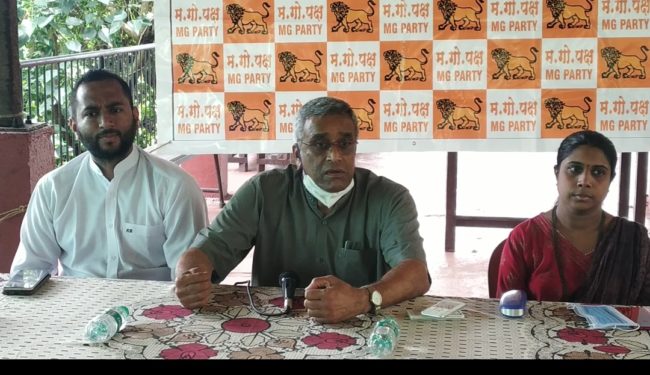 Goemkarponn desk
PANAJI: The MGP-AAP alliance talks seems to have been scuttled post former BJP MInister Mahadev Naik's entry into the Aam Aadmi Party at Delhi last week.
MGP leader Sudin Dhavlikar addressing media said that his party's alliance conditions are simple and have been informed earlier.
"We have cleared all opposition parties – MGP will contest all four seats in Ponda taluka that of Ponda, Marcaim, Shiroda and Priol," he said.
Dhavalikar also said that his party would contest 18 seats, including Pernem, Mandrem, Dabolim, Savordem, Bicholim and Mayem.

He said MGP would contest maximum seats, and in case if there is a good independent candidate, then MGP would support them to win the election.
Taking an indirect dig at AAP giving entry to Mahadev Naik, Dhavalikar warned the political parties that they will not form an alliance if they give entry to "ayaram, gayaram" politicians.
"Our conditions indicate that MGP would contest forthcoming election on its own strength. We want to align with AAP, but party leaders are unhappy with recent developments," he said.
Dhavalikar bros had recently met Delhi CM Arvind Kejriwal during his visit to Goa, which had sparked speculation of the two parties alliance for teh 2022 Assembly polls.
Govt fooling Goans on mining…
Speaking further, he said, BJP government should not fool Goans on the mining issue.
He said the Chief Minister should explain how the government would form mining corporations and restart mining in Goa.
"The mining below the ground belongs to the public; the surface rights rest with Mining landowners," he said.
Sudin said 4 lakh tonnes of ore has been illegally extracted, and people from the mining belt know this.
Sudin Dhavlikar also demanded that the government visit flood-affected Usgao, Ganjem, Valpoi and various parts and sanction Rs 25 crore to flood-affected people to construct their houses and provide relief.
He said if the government can afford Rs 113 crore on Mahalsa Temple, Rs 25 crore should give on a priority basis to flood-affected and cyclone victims.
He said Rs 2 lakh is insufficient, so the government must give at least Rs.4.5 lakh each to house owners whose mud houses were damaged in flood.
He said CM has declared Political visits in all Talukas instead of visiting flood-affected areas.
He should also know the problems of students by visiting all parts of Goa. He said he is worried about the future of Goan students in the absence of proper education and internet connectivity.
Sudin Dhavlikar also alleged Rs 14 crore scams in Sanjjevani Sugar Factory since 2016 in connivance with politicians and demanded CBI inquiry.
Comment