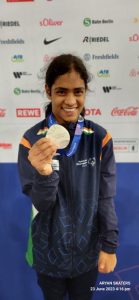 Goemkarponn Desk
BERLIN (Germany): Goa's Taniya Ulhas Usgaonkar kept up to her promise of a second individual medal clinching a silver in roller-skating on a rain-marred day at the 2023 Special Olympics Summer Games in Berlin, on Friday.
With heavy rains forcing stoppage of all outdoor sports, it was Goa's Usgaonkar keeping up to her promise of winning a second medal for herself as she ended second best in the 30 metres slalom race.
The student from Keshav Seva Sadhana, Bicholim was at her near-best as she ended behind Mohammed Nissar, while leaving Romania's Corina Campeanu for the bronze in the 30 metres slalom.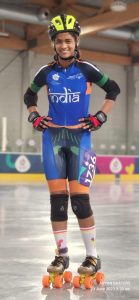 The 15-year-old from Goa had already settled for a bronze in the 30 metres straight line roller-skating event earlier this week.
"My job was to win a second medal for myself and for my country in both the events. This is so much of a dream come true for me and my family," an elated Usgaonkar narrated.
"I've put in hard work over the months, and today, all this has come together for me. I owe so much to Special Olympics Bharat and Special Olympics Goa along with my coach and all those who have backed me all along this lovely journey," she added.
This was the eighth medal from Goan athletes into the Team Bharat account. Geetanjali Nagvekar had opened Goa's and India's account with a gold in the 800 metres, after which powerlifter Siya Sarode brought home two gold (in the Dead Lift and Squat), a silver in the Combined and a bronze in the Bench Press, on Wednesday.
This was followed by a bronze for Usgaonkar in the 30 metres roller-skating followed by Gayban Mulla's bronze in the Mini Javelin Level C, late on Thursday.
Meanwhile, the women's basketball and volleyball teams and men's basketball team from India will be in contention for gold medals at the Messi Stadium on the penultimate day of competition, on Saturday.
The four Goans in the football team – Venson Paes, Aman Nadaf, Joel Rodrigues and Francis Parisapogu – will be eager to put it across Saint Lucia as they contest in the final, also on Saturday. India and Saint Lucia had played out an exciting 2-2 draw in the preliminary rounds of the competition.
In individual sports, Aslam Ganjanavar will be contesting for a gold in the judo competition, while Geetanjali Nagvekar will be looking at a second gold medal for herself in the 400 metres run. Her teammate Aseef Malanur will also be running for a medal in the 400 metres.
Organisers of the 2023 Special Olympics Summer Games will have a huge task on hand as they re-schedule outdoor sports before the curtains come down on the Games on Sunday.
Comment