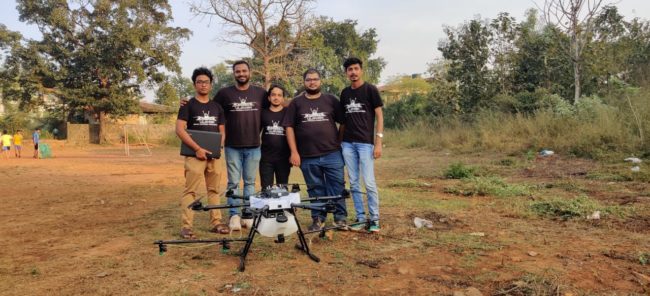 Goemkarponn desk
MARGAO: Drones are the technology of the future. Although the most commonly seen drones are being used only for photography, there are other industries that can benefit from them like agriculture.
Research on drones being used in agriculture has been seen on the internet, but did you know that this technology has already set its roots in the state of Goa.
Following are some points that highlight the research on use of drones in agriculture in the state of Goa.
How the idea came started – 2017-18
In the year 2017 Dr Gaurang S Patkar, (Head of Department of Computer Engineering in Don Bosco College of Engineering Goa) proposed an idea of harvesting oil palm fruit using a drone for the International Competition on Oil Palm Mechanization (ICOPM 3) held at MPOB, Malaysia.
The Idea consisted of a drone mounted with a cutting arm and a camera would fly up to the tree top, then using machine learning would identify ripe Oil Palm fruits. Depending on the ripeness it will either cut the fruit or move on to the next one. This process is conceptualized to save time and increase efficiency of harvesting the fruit as compared to manual harvesting. Also it would prove safer as no human would be required to climb the tree or cut the fruit.
The concept was selected among the top 5 finalists in ICOPM 3 and received grants for prototyping the Idea. Dr Gaurang S Patkar, along with a group of final year students worked on building the prototype. The prototype had a fixed cutting arm and a camera. An image processing software was built that could distinguish between ripe and unripe oil palm fruits.
The prototype was built successfully within the limited time frame and budget. Although the prototype did not win the competition, the research revealed many unknown factors that would be useful for future research.
The Harvesting Drone Prototype
Dr Patkar has patented this idea. A research paper was also published titled "A Mechanized Harvesting and Automated Grading Technology for Oil Palm Fruit" summarizing the findings of the project.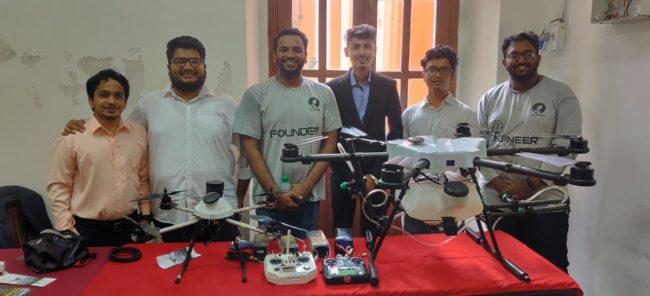 Execution & Research 2019-21
Ulavan Agritech Services (OPC) Pvt Ltd, is a Goan start-up founded by Mr Tarun Krishnakumar along with two students Mr Akshay Saraf and Mr Rajdutt Kenkre (the students who had worked with Dr Patkar on the drone research and prototype). Ulavan Agritech Services is based in Goa, incubated at Forum for Innovation Incubation and Entrepreneurship (FIIRE) Fatorda, Goa, and has 100% Goan employees.
The aim of Ulavan Agritech Services is to provide various drone based technology solutions like spraying, crop health monitoring, and drone based harvesting, at an affordable cost to farmers. Drone based spraying for flat land will be the first drone services they will be starting in Goa. They have showed pesticide spraying demo to cashew, sugarcane, paddy, and vegetable farms in and around Goa, and Tea plantation in Nilgiris. The drone has a capacity of 10ltrs capacity and can autonomously spray an area of 1 acre in only 10mins.
Person holding spraying drone, gives an idea of size
The company will not be selling the drone as it will be difficult for a famer to use, maintain, and follow government compliances, but they will be providing the spraying service i.e. they will be doing the spraying for the farmers at Rs 1000/acre cost.
Hurdles faced:
The company is ready to provide the spraying service in Goa, but with the new DGCA rule, its held up due to delays in obtaining commercial operating licenses for small drones from DGCA for the past 7 months.
Despite the difficulties faced in the year 2020 due to the Covid19 Pandemic, Ulavan, a startup of just 5 engineers and one ex-investment manager has carried out many R&D operations for drones in agriculture to create rural level micro entrepreneurship model. They have built and tested autonomously flying drones with focus on safety of drones and third party.
They have built an areca nut spraying drone prototype (a video of the same can be found on youtube).
R&D Done: They have carried out many tests to improve the efficiency of drone spraying in various farms. The company is also working on building a machine learning module that will help the drone identify objects for autonomous navigation in uneven areas.
They are ready to provide drone services to industries other than agriculture like in construction for land surveys, large area inspections, garbage monitoring and sanitizing using drones, blockchain based mining survey drones, and more.
Ulavan Agritech has been conducting online workshops on drone building to share their knowledge and create an awareness about drones in Goa for free for last 1 year. They aim to provide employment to Goans and create a new employable skill base in Goa
Any interested person may visit www.ulavan.co.in to learn more about them and also contact if additional information is needed.
Help Needed:
With the ongoing pandemic, Ulavan Agritech Services (OPC) PVT Ltd has not been able to get the required licenses from DGCA, without which there is no external investment coming in to the company. Even the startup help and support from IT department in Goa is not reaching us. Any help with regards to Ulavan obtaining License from DGCA will help us get back on track, or any monetary help from Startup Promotion Cell to sustain till we get our license will be very helpful
Comment