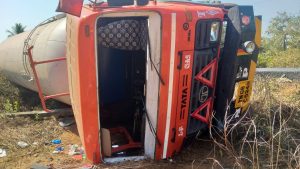 Goemkapronn desk
CANACONA: A Gas carrying tanker (TN 88 C5249) returning back after emptying the Gas in Goa overturns half of the road and the fields below on the narrow NH-66 road at Gulem in Canacona late Thursdays night.
An oncoming Goods-Rickshaw (KA30 A0371) coming from Karwar and proceeding towards Margao reached at the same time (of Tanker fall) and hit the tanker partly fallen on the road head-on.
While both the drivers (Tanker and Rickshaw) sustained minor injuries, the rickshaw driver suffered Leg fractures in the mishap.
Incidentally, as the tanker partly blocked the highway road, the traffic was disrupted, moving at a snail's pace and cautiously on either side. While the rickshaw with its Cabin damaged badly was moved away and stationed on the side of the road, the empty gas tanker, whose empty tank resting down the roadside and tanker chassis partly blocked the highway road.
People blamed the narrow and treacherous section of NH-66 road at Gulem for the mishaps.
Incidentally, the incident happened only a few metres away from the Gulem Petrol Pump, and a major disaster was starting had the now fallen tanker been loaded with Gas consignment, opined a source.
The Highway road has not even an inch of space, but it's almost 3-4 ft deep on either side, beyond the Tar section
 of the road. Any vehicle on this highway section goes-down even if the vehicle goes –off the road by an inch. This is not an isolated incident, but over a dozen of vehicles have gone down here in the recent past. Its high time PWD comes out with a solution to stop these incidents,' complained a motorist, who reportedly was driving behind the tanker and could stop his vehicle at the nick of time and avoid a hit to the tanker.
Comment