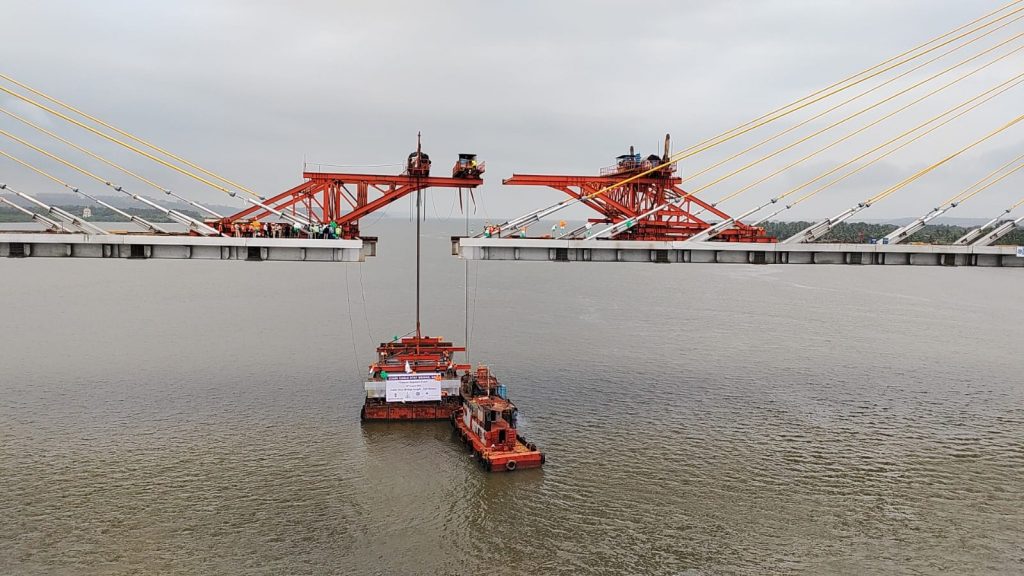 Goemkarponn desk
PANAJI: Chief Minister Pramod Sawant today informed that the entire project of the Zuari Bridge will be completed by March 2025.
CM Sawant was speaking on the occasion of the lifting of the last segment of one side of the four-lane Zuari Bridge.
"Entire project of Zuari Bridge will be completed by March 2025. Union Minister Nitin Gadkari will be called for the inaugural," said CM Sawant.
He further said that the 545-crore Cable Stay Bridge is the 2nd longest cable bridge in India and will be open to the public by December 2022.
"Once four-lane of the new Zuari Bridge opens, all vehicles, including two-wheelers, will be allowed to ply, and there will be no restrictions such as Atal Setu," said Sawant.
The Chief Minister informed that Rs
1,436 crores had been spent on the bridge and connecting roads infrastructure, compromising 3 packages.
Sawant said that the government has so far spent Rs 22,000 crores on road infrastructure in Goa.
Meanwhile, PWD Minister Nilesh Cabral said that the bridge will be maintained for 8 years by Dilip Buildcon as part of a maintenance contract.
"Rotating towers atop the bridge are not part of the bridge infrastructure, but govt will tender the work of the tower in PPP mode very soon," said Cabral.
He attributed the COVID-19 pandemic as the main reason for the delay in completing the bridge works.
The PWD Minister said that the COVID-19 pandemic affected the supply of various resources, including manpower.
"The ban on international travel also contributed to the delay as the foreign agencies involved for proof checking during execution could not visit the site," he said.
Meanwhile, the last segment of the under-construction Zuari bridge were lifted today in the presence of CM Pramod Sawant and PWD minister Nilesh Cabral.
Comment