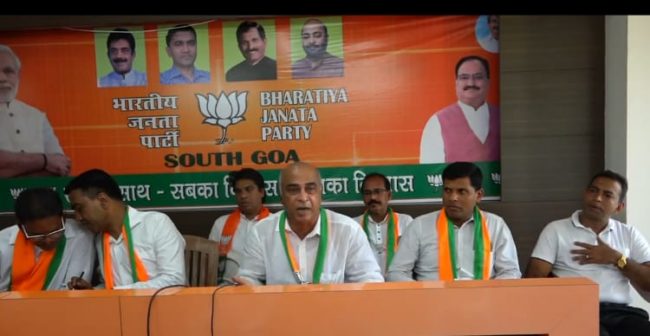 Goemkarponn desk
MARGAO: Chief Minister Dr Pramod Sawant assured to give ministry to former Tourism Minister Babu Azgaonkar and Damodar Naik if elected.
CM expresses confidence that many seats of BJP will win in Salcete.
Chief Minister Dr Pramod Sawant offered homage to Late Bharat Ratna Lata Mangeshkar during a press briefing.
In his address, Sawant said that BJP is going full throttle in Salcette taluka this time, the response has been good, and there was no need to do events like the Salcete mission, etc.
"I am confident that in Salcete Lotus will bloom". You all elect Babu Azgaonkar and Damu Naik, then both will be given ministry". The projects we are undertaking in Salcete is being seen by the people," he said.
Sawant said in Velim, Curtorim, BJP candidates are doing well in Campaigning.
"We will also win the Cuncolim constituency," he says.
Sawant taking a potshot at the Congress Margao candidate Digambar Kamat stated that "Kamat was asking where are acche dins?, then he must see the human development and work done by the BJP in its tenure".
Sawant also took on Goa Forward Party supremo Vijai Sardesai and challenged him to reveal who had changed the zone of Kabrastan at Sonsoddo area and should tell people.
"Who has done the politics over the bus stand, garbage, Karastan issues? He should tell," CM said.
He further urged the people of Salcete to vote for BJP. "We will surely win in Margao and Pernem. Congress party's rejected "Maal" is in the fray in the Salcete election," he says.
Margao BJP Candidate Manohar (Babu) Azgaonkar said that "there has been no development seen in Margao constituency in many years.
"There is a need for the people from all communities to get together in Margao.  People from Margao seem to have accepted me, and I am privileged to get a chance to serve the people of Margao," he said.
He further said that he wants to develop Margao like the Pernem constituency.
"Margao has several problems such as garbage, bus stand, poor market, district hospital, etc. Even the cultural events are taking place in Fatorda and not in Margao. In fact, Margao is a place of businessmen, and much of the revenue is generated and given by the businessmen from Margao," he says.
Azgaonkar further assured that every issue in his manifesto would be completed. Margao will certainly have a BJP seat this time. We will surely get 24 seats. "We have a government at the centre, and to initiate the further development, it is necessary to get BJP seats," he added.
Damu Naik, Fatorda BJP candidate, said that our slogan for this assembly election, "in 2022, seat 22," is actually what we are eyeing for the absolute majority this time. If we get an absolute majority, then the double engine govt will bring development.
Naik further said that the Dr Pramod Sawant government and the Central government are pulling Goa's economy. "To bring development, we need a stable government. Oppositions are talking tall about Goa's development, but we need to analyse what they have done in the past," he added.
Comment