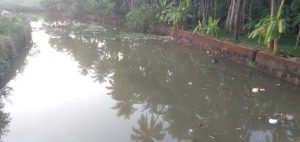 Goemkarponn Desk
PONDA: As Once lifeline of Agriculture ,Ponda main flows with polluted water the farmers irrigating their paddy crop based on nullah water at Kavlem, Bandora locals kept their land fallow for long now almost for around two decades. The Polticians, Ministers often makes speeches asking farmers not to keep their land fallow but their problems are not solved at many places farmers left helpless.
Two decade back the Bandora,Kavlem villages were green throughout year with two seasonal crops were cultivated based on Ponda nullah water which was clean and even used for bath and was clothes,but rapid urbanisation taken toll on farming activities as waste water from Bethora industry and Ponda City flows in nullah.
Today at many places farmers are keeping their land fallow due to various reasons including high cost of agriculture , unaffordable wages, fencing etc, rice getting at subsidized rates etc however at Ponda polluted nullah water is one reason for Villagers of Kavlem, Bandora for keeping their land fallow. Reason farmers fears to use water for irrigation as it causes rash and health hazard. The nullah water appears almost black in colour due waste and garbage disposal.
Some two decades back the Ponda's main nullah located in the heart of the town was once considered the lifeline of Agriculture at its downstream at in Kavlem and Bandora Villages. It was source of irrigation for paddy crop , but today lies in highly contaminated state with domestic waste , garbage beside at Bethora some untreated Industrial effluent also released into it without proper treatment. The nullah contamination for long time hit the traditional Agriculture activities at Kavlem and Bandora.
The nullah at upstream originates at Bethora Panchayat and later flows 12 km from Bethora ,Curti,Ponda City, Kavlem ,Undir- Bandora and merges into River Zuari. All internal nullahs, storm water drains in above areas connects to main nullah but sadly most of them flows with waste water and garbage which resulted into heavy pollution in main nullah.
Around three hundred Farmers in Kavlem and Bandora used to cultivate their 2 lakh sq metres of farm land from the from Ponda nullah water were used to irrigate the crop. The contamination of the nullah has resulted 60 percent farmers giving up agriculture. Besides this in recent time ration and ration provided at subsidised rate also affected farming as government supplies sufficient rice per month.
Farmer Durgadas Gavade said when farmers provide polluted nullah water to irrigate paddy crop it causes rashes on body and also health problems. Because of this many farmers had left agriculture and kept their land fallow. He said local MLA and Power Minister provides help but only few farmers taking risk to cultivate their field while majority farmers fear to take their traditional paddy cultivation because of polluted water. The farmers claimed that the contamination of the nullah has forced farmers to give up agricultural activity in the area for the last two decades.
Ponda Muncipal Council (PMC) Chief Officer Yogiraj Gosavi said PMC issues notices to the people involved in release of waste water into nullah. PMC also developed Swachata App where people can complaint agaisnt those releasing waste into open nullah, gutters. Before giving trade license We also obtains NOC from Health so that waste is not released by them into nullah.
Marcaim MLA and Power Minister Sudin said Ponda locals will be soon connected with Ponda Swerage Treatment Plant . By the end of May households would be given Sewage connection. After that 70 percent pollution in nullah would be reduced. For other 30 percent industrial pollution the local Panchayat can take action.
Ponda MLA and Agriculture Minister Ravi Naik said in past complaints were made to pollution Board against nullah pollution. He said Industries should not release untreated water into nullah. He said health and Pollution Board should take action agaisnt those involved in pollution of nullah.
Comment