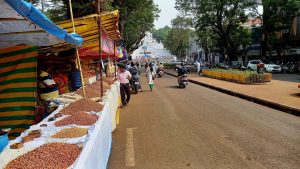 Goemkarponn desk
PANAJI: The feast of Our Lady of Immaculate Conception was celebrated with great fervour and pomp at Panaji.
The feast is preceded by a 9-day spiritual preparation that consists of the Rosary, Mass Sermon and Salve.
The celebration of the feast of Immaculate Conception drives home to all the faithful and others an important message of living a life marked by honesty, integrity and truthfulness.
All people, irrespective of religion and creed, venerate her and pay their respects to her. They seek her protection and blessing on their families.
For parishioners of Panjim, it is an event of great significance and an occasion of great joy to celebrate the feast of Our Lady of Immaculate Conception, the patroness of the parish.
However, this time the Panajimites have criticised the CCP and the state government for doing away with the fair at the Panaji feast this year altogether due to the PM's visit.
This time, the fair has not been allowed owing to Modi's visit, possible security concerns, and the threat of traffic disruption.
The CCP has informed that the traditional stalls/vendors at the Panjim Church Square will be allowed to operate during the feast days.
"We will organise the fair for 3 or 4 days from December 12 or 13. After the event is over, there is no issue in organising the fair. We will have it at the same place," said the CCP Mayor.
Comment