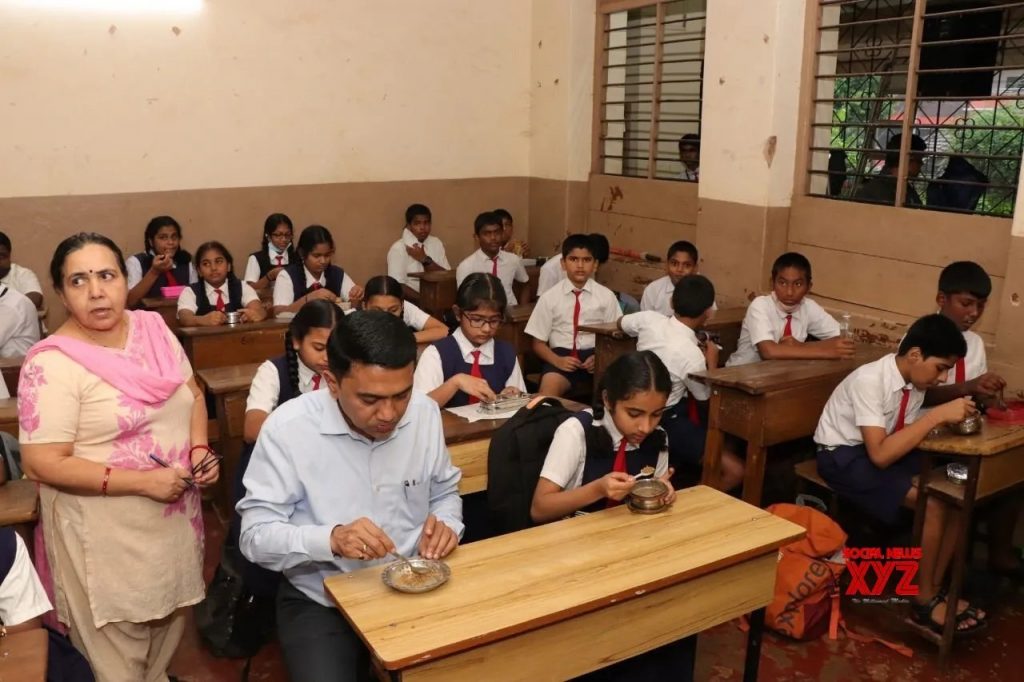 Goemkapronn desk
CANACONA: After a net increase of over Rs.1.90 per student per day rate for the mid-day meals, chances have increased of getting midday meals by all the students of Canacona schools.
Omkar SHG, who had stopped supplying midday meals to over 1943 students of Khola, Agonda Gaondongrim and Khotigao from 1st October, has tentatively agreed to supply midday meals to all the students once schools reopen after Diwali vacation.
It may be recalled that 1943 pre-primary, primary and middle school students of Khola, Agonda, Gaondongrim and Khotigao were deprived of mid-day meals from 1st October after a Supplier stopped supplying meals to these students stating it was uneconomical.
The Supplier Omkar Self-Help Group has demanded either increase in rates and suitable compensation towards transportation charges as it has become uneconomical to prepare and supply mid-day meals to the children spread across the width and breadth of Canacona taluka.
"In order to supply meals, we had to track 1.5 Km on foot to reach some of the schools having just 3-4 students in distant corners, besides approaching the nearest motorable points in our transportation. The rates provided are meagre, and we were incurring daily losses of Rs.3000. Our bills are also pending since June, and there was no other option than to stop honouring this additional responsibility", Omkar Self-Help Group President Sandhya Dessai had informed.
According to Dessai, Omkar SHG had, in fact, accepted the additional responsibilities to supply midday meals to students of Khola, Agonda, Gaondongrim and Khotigao after the original suppliers (some other SHGs) had stopped supplying.
"Omkar SHG had, however, continued to supply midday meals to about 800 students from Loliem-Polem and Poinguinim village schools .' Yes, though it was economically not viable, we decided to continue with the supply to Loliem-Polem and Poinguinim schools as it is our original cluster and wants to honour the commitment to the end", Dessai informed.
"Now, since the government has agreed to enhance the mid-day meals per student and per day rates to some respectable costs, on commencement of Schools after Diwali vocation, we will also resume supply of Midday Meals to students of Khola, Agonda, Gaondongrim and Khotigao numbering about 1943 children scattered around different schools across these villages. However, our demand to compensate for the transportation charges we are incurring daily is still pending, and the department has assured to looking into it later. We also want the department to clear our pending bills at the earliest possible", Dessai told this correspondent.
He since all the Midday Meals suppliers federation consisting of 107 suppliers had agreed, we too agreed to accept the rates.
In order to cater to around 2900 students scattered in more than 100 different schools, we are engaging 4 Vehicles daily, which has become very much uneconomical. Even our federation agreed to consider following up our transportation compensation demands', Dessai.
As per the enhanced rates, the midday meal suppliers will get Rs.8/- for supplying quality midday meals to Pre-primary and Primary Students and Rs.10/- to Upper-Primary School Students.
Interestingly, another self help group Astha SHG supplies Mid-day meals to around 1750 pre-primary, Primary and Upper-Primary students of schools located in the village of Shristhal and the entire Canacona municipal areas.
With the resumption of supply after the reopening of schools after the Diwali vacation, Omkar SHG alone will cater to 2743 children from Six villages of Canacona taluka.
Comment