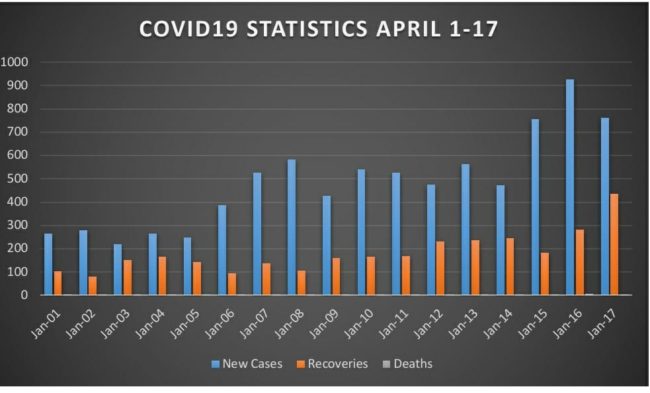 Goemkarponn desk
PANAJI:
In last 17 days, since April 1, Goa has lost 42 lives at an average of 2.4 people everyday as the dreaded COVID 19 virus hardened its grip on this coastal State.
Of the deaths on Saturday, all were reported from Goa Medical College and hospital.
GMC bulletin said that one patient expired within two hours.
"She had symptoms for five days and was brought gasping to the GMC hospital where she expired within six hours," the bulletin said.
On Saturday 762 new cases were reported and 436 recoveries.
In the last 17 days, Goa has seen a total of 8578 cases and only 3093 recoveries.
The testing continues to be below 3000 per day, despite the Prime Minister Narendra Modi calling for mass testing.
In last 16 days there has been just 35,155 which means only 2067 tests per day.
Interestingly, the positivity rate has gone up to 24.4 p.c and mortality rate up to 0.48 p.c. The recovery rate in last 16 days is just 36.05 p.c.
Health Minister Vishwajit Rane on Saturday said that as suggested by the CM, PHC Shiroda will continue to operate as a COVID care Center in addition to Shyama Prasad Mukherjee Stadium and two other locations.
He also said that after his discussion with Secretary Health, Dir. DHS, Dean GMC, and as proposed earlier & discussed with CM, bed capacity to be increased.
"50 beds in Asilo Hospital, 550 beds in South Goa District Hospital & ESIC to be converted into a COVID Hospital with ITU & ICU facilities," he stated.
Similarly, he said, DHS shall be replicating the ITU & ICU facilities with enhanced facilities at South Goa District Hospital.
"ITU facility will also be extended to Sub-District Hospital Ponda which will be used as a COVID Hospital.
Comment