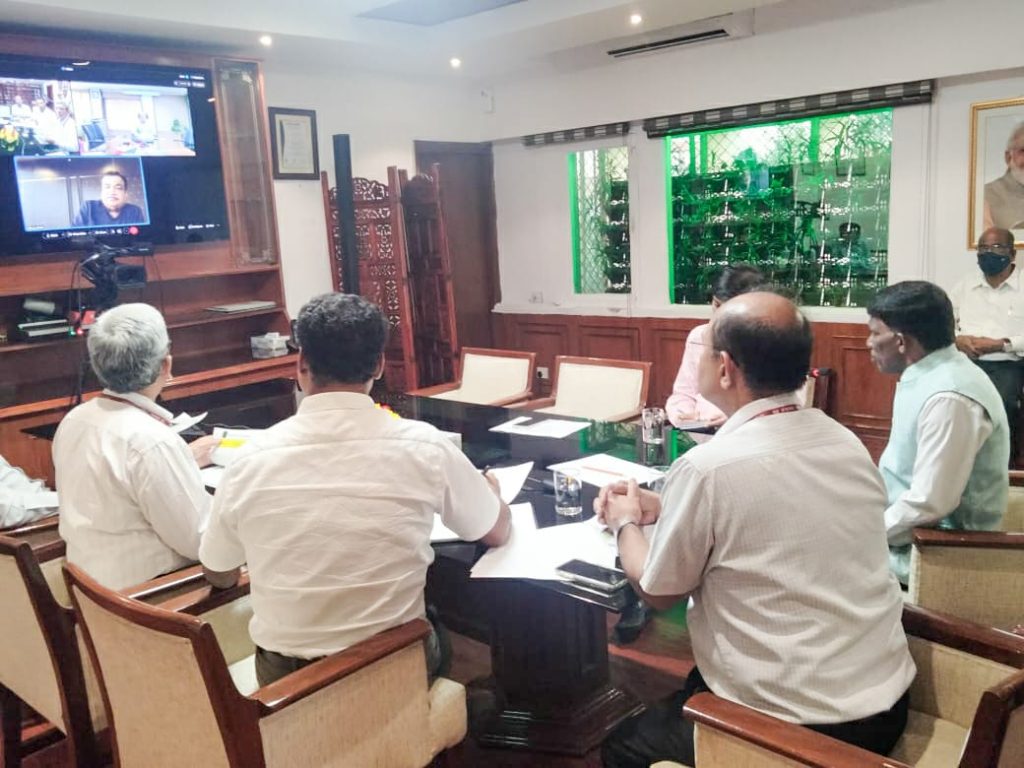 Goemkarponn desk
CANACONA. Citing money is a hindrance, and in a candid admission that construction of Tunnel at Karmalghat is expensive and already heavy expenditure is incurred in Goa for Roads, Union Minister for Transport Nitin Gadkari agreed to construct either a 6 or 4 Lane road to remove the accident- prone black spot on the NH-66 accident-prone Karmalghat section.
It may be recalled that following frequent accidents on the Karmalghat section of NH -66 road, which is pending also pending for 4-Lane construction from Char-rasta to Balli, residents have demanded early commencement of works of the 4-lane. While Greens (NGOs) and several residents, having objected to the chopping of thousands of trees and disturbing/displacing the Wildlife of the heritage of the Western Ghats, have instead demanded a tunnel at Karmalghat.
In a video conference interaction, Speaker of Goa Legislative Assembly Ramesh Tawadkar who is MLA of Canacona, asked Union Minister for Road Transport and Highways Nitin Gadkari asked about the proposal for the tunnel at Kalmalghat on NH 66 and requested to expedite the process of tunnel feasibility and survey approval. Residents have demanded a tunnel at Karmalghat in the place of widening of the road to 4-Lane, not just to avoid accidents but also to avoid displacement of wildlife and avoid felling of thousands of trees.
Union minister Gadkari is heard telling Tawadkar ' to construct a Tunnel is a bit expensive; moreover, in Goa, a lot of works are being completed, and we have to make their payments as well.' to which Tawadkar said, 'Our situation is very bad, particularly at this road stretch which witnesses 1-2 accidents on a daily basis', to which Gadkari said, 'I will do one thing, I will make this stretch an accident-free zone; if possible, we'll make it 6-Lane or else will do 4-Lane, acquire land. We will do one more thing regarding the trees to be cut, which are around 2500 trees, let the permission from Goa happen quickly, and at my end, I will immediately commence the works. 45- metres width is sufficient to make the section freely for six or 4-lanes. However, we will transplant these trees. You only see that permission to cut these trees comes from Forest. I will also tell my people to put the proposal to Forest. Once forest clearance comes, we will see the land acquisition process also take place, and once both these works are over, I will see this accident-prone section at Karmalghat will be made accident-free.
According to sources, the meeting via video conferencing with the Union Minister of RT & H was held on Monday at 6 pm (due to the death of relative of Nitin Gadkari physical meeting was not possible) at Transport Bhavan, New Delhi to discuss the proposal for the tunnel at Kalmalghat on NH 66 and also to expedite the process of tunnel feasibility and survey approval, informed a source close to Speaker. Others present during the video meet were DC(RD) & SS MoRTH S. K Nirmal, CE MoRTH O. P. Shrivastava, CE( Tunnel) MoRTH Rahul Gupta, RO, MoRTH, Mumbai, Rajeev Singh, RO, NHAI, Mumbai Anshumali Shrivastava, and CGM, NHAI(HO) PG Khodaskar.
Comment