GBA holds badminton coaching camp at Ponda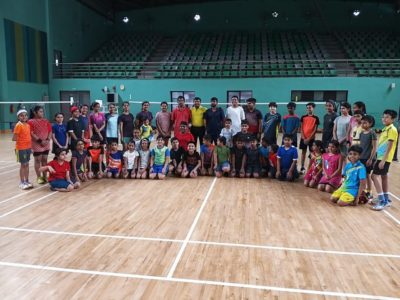 Goemkarponn desk
PONDA: Goa Badminton Association in collaboration with Ponda Shuttlers and the Sports Authority of Goa, organized a 10-day coaching camp at Ponda, comprising RCC trainees from Navelim, Margao and Ponda. In the joint sessions between the different centres, trainees could engage and compete with one another.
This event was an exercise by GBA to spot and bring fresh new talent to badminton.
The camp witnessed various pertinent events such as a pep talk session with former India number one player Anura Prabhu Desai, skipping race, lively fitness and on-court sessions, and a friendly league tournament that gave the camp a thrilling end.
Players were further motivated by the mementoes and gifts received on behalf of the Ponda Shuttlers club. ""We hope more such events are organized in future. There is an abundance of talent in Goa that we are yet to identify. We as a club will continue to work towards it with GBA"", said Guru Khandeparkar, camp coordinator and member of Ponda Shuttlers.
A total of 50 trainees from the age group of 8 to 14 participated in this camp. ""This camp ignited the sporting spirit amongst players that had dwindled due to the pandemic"", stated Sharmad Mahajan, who conducted the camp along with two other coaches, Dhananjay Sirsat and Anup Kushwaha. ""We are extremely happy to see badminton blooming and growing. There is lots of energy and excitement all around Goa, and more and more children want to take up badminton as a sport. The energy has to be channelized in the right direction. Kudos to Ponda Shuttlers for the initiative. In collaboration with our other clubs, we have planned more of such camps, exchange programmes with other outstation academies apart from the State level tournaments and exciting League championships in the months ahead before the end of season"", said GBA Secretary Sandeep Heble while outlining some of the Association'sAssociation's upcoming plans.
Comment