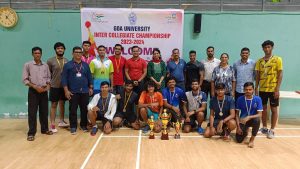 Goemkarponn desk
PANAJI: The Goa University Inter Collegiate Badminton championship 2023-2024 for men and women was held at S.A.G. Indoor Stadium, Campal, from 25th to 28th July, 2023.
P.G. Goa University won the women's title and defending champions Goa College of Engineering, Farmagudi won the men's title.
In the women finals P.G. Goa University defeated Goa Medical College 2-1. Niharika Tiwari defeated Sarvadhnya Patil 21-11, 21-13 in the first singles. Yashmin Sayed defeated Ritika Velingkar 21-1, 21-1 in the second singles. In the deciding doubles match Yashmin Sayed & Sarvadhnya Patil defeated Niharika Tiwari & Ritika Velingkar 21-9, 21-13.
In well contested men's finals, the defending champions Goa College of Engineering, Farmagudi defeated GVMs GGPR College of Commerce and Economic, Ponda 3-2. In the first singles Chetan Magdum defeated Samarth Kamat 21-12, 21-13. Soham Shet defeated Om Parodkar 24-22, 21-12 in the second singles. In the first double Chetan Magdum & Om Parodkar defeated Soham Shet & Tejas Pillai 21-17, 21-7. In third singles Tejas Pillai defeated Ankit Bagayatkar 21-10, 21-3. And in deciding second doubles match Soham Shet & Pashrath Mangelkar defeated Ankit Bagayatkar & Sairaj Dhund 21-12, 21-11.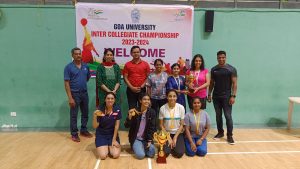 Best player of the championship Men and Women was awarded to Chetan Magdum of GVMs GGPR College and Yasmin Sayed of P.G. Goa University respectively.
Mrs. Poornima Dhume, Asst. Prof., Goa Business School, Goa University and Shri. Roy Athide, Badminton Coach, Sports Authority of Goa along with Mr. Balachandra B. Jadar, Asst. Director of Physical Education and Sports, Goa University was the Guest for the presentation ceremony and presented medals and trophies to the winners and runners ups.
P.G. Goa University women team Yasmin Sayed, Sarvadhnya Patil, Yukta Naik and Priyamvada Maurya. Goa Medical College women team S Niharika Tiwari and Ritika Velingkar.
Goa College of Engineering Men team Soham Shet, Dashrath Mangelkar, Samarth Kamat, Sai Kunkolienkar, Tejas Pillai and Yash Palekar. GVMs GGPR College Men team Chetan Magdum, Om Parodker, Ankit Bagayatkar, Sankalp Prabhu, Pratik Prabhu and Sairaj Dhond.
Comment