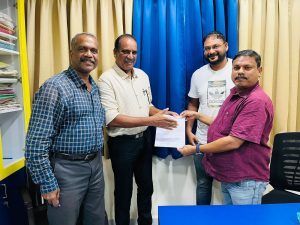 *Mariano appointed as Technical Coordinator
Goemkarponn Desk
PANAJI: The GFA Executive Committee in its meeting today approved the promotion of Cortalim Villagers into the Goa Professional League 2023-24 season. This was necessitated after the withdrawal of Salgaocar FC from the top tier of Goan football.
Cortalim Villagers were the third placed team in the recently concluded GFA First Division League. They finished behind Dempo SC Juniors and Young Boys of Tobca after suffering a narrow 1-2 defeat in injury time to YBT in their last game after needing just a point in their final game to qualify.
However the shock withdrawal of Salgaocar FC handed them a chance to be the second team to be promoted.
"The Executive Committee today met and unanimously agreed to promote the second team, ie, Cortalim Villagers, to the Professional League following the withdrawal of Salgaocar FC. They have invested a decent amount on the team this season and were unlucky to lose out on promotion in their final game. We hope that this will spur more village teams to aspire to reach the top their of Goan football. We hope that this is an exciting season for Goan football", said Caitano Fernandes, President of GFA.
The Committee also decided to extend the last date for bidding for direct entry to the Professional League to 21st July 2023.
Meanwhile former AIFF Instructor Mariano Dias has joined the GFA as Technical Coordinator. Mr. Dias a former coach of repute will join the Association on a years contract and will spearhead the Technical Department of the Association. He has been tasked with preparing a Master Plan for youth and grassroots development and will look to revamp the youth and grassroots structure in the State. Mariano will also have a role to play in increasing the number of qualified coaches in Goa.
"I am very happy with Mariano's appointment. He is well qualified and his experience will help the state. He has been a coach of a high standard and we have tasked him with the job of reviving our youth football structure, oversee selection of our state teams and also help in coach education" added Caitano.
"I met the President and I was impressed with his vision for the Association. I thought this is a good opportunity to give back to my state. There is lots to be done for Goa to regain its lost glory and I will work hard towards achieving that" said Mariano speaking on his appointment.
Meanwhile the Annual General Body meeting of the Association will be held in the city of Sunday 9th July. The GFA is set to launch its website on that day along with the budgets for the ensuing season. Plans are also afoot to broadcast the Women's League and the GFA First Division League this season.
Comment